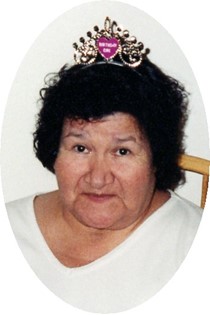 Kathleen "Kathy" Osborne
Nov 14, 1947 - Dec 10, 2017




Kathleen "Kathy" Osborne, 70, of Riverton passed away on Sunday, December 10, 2017, at her daughter's home. A viewing will be held from 6:00 pm to 8:00 pm on Wednesday, December 13, 2017, at Davis Funeral Home. A funeral service will be at 10:00 am on Thursday, December 14, 2017, at Davis Funeral Home with Echo Klaproth officiating. Cremation will follow the service. Memorial contributions to the Help for Health Hospice Home in care of Davis Funeral Home will be appreciated.

Kathleen Iris Fluery was born on November 14, 1947 in Rosebud, SD to Robert Harvey and Rachel (RedHail) Fluery. She grew up in Pukwana, SD and attended school in Ft. Thompson, SD.

On June 17, 1978 in Ethete, WY she married Glenn David Osborne. They made their home in Fremont County. They were married for 23 years before his passing in 2002.

She was a cook at Wyoming Indian High School for years and retired from them.

Kathy liked to spend time with her family and grandchildren. She loved to watch "her" TV programs.

She is survived by her son, James Goggles, Jr.; daughters, Rose M. Goggles, Angeline R. Vargas, Roni Osborne, Mary Killsontop Warren, and Angela Warren; brothers, Nicholas Fluery, Ronald Fluery, John Fluery, and Alan Fluery; sister, Vivian Weddle; adopted sisters, Gloria Goggles, Phyliss Trosper, and Mildred Goggles; eight grandchildren and twelve great grandchildren.

She was preceded in death by her parents, Robert and Rachel Fluery; husband, Glenn Osborne; son, Michael D. Goggles; brothers, James Fluery and Scott Fluery; sisters, Patricia Fluery; and many other family in South Dakota, Wyoming, and Minesota.

On-line condolences may be made to the family at www.TheDavisFuneralHome.com.

Services under the direction of Davis Funeral Home.