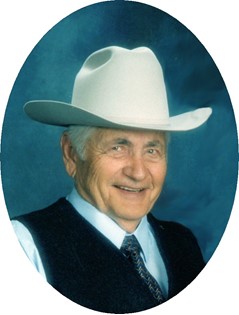 Keith Blankenship
Jun 30, 1929 - Jan 9, 2018
Keith Albert Blankenship, a well known rancher and farmer in Fremont County died at the Help for Health Hospice Home on the morning of January 9th, 2018.

Keith was the second of Edd and Verna Blankenship's six children born in Canton, Oklahoma on June 30, 1929, and baptized in the First Christian Church in Eagle City, OK. When Keith was four, the dust bowl forced his family to relocate from Oklahoma to a homestead near Morton, Wyoming, where his father worked on Bull Lake Dam. Keith's family returned to Oklahoma soon afterwards, but his connection to this area remained lifelong.

Keith and his older brother Thaine trained hunting dogs and many of the fondest evenings of his childhood were spent with his brother coon hunting by moonlight along the creek bottoms of Blaine County. Keith was an outstanding athlete in High School and college and played football his freshman year at Colorado State. The next year, he transferred to Oklahoma State and joined the National Guard. Shortly after joining, his unit was mobilized by President Truman as part of the 45th Division's mission to the front lines of Korea. Keith was squad leader and Sergeant First Class and though he lost his toe to frostbite as he battled the Chinese during his 18 months on the front line, he did not lose a man. He often said that he "never had a bad day in his life after he left Korea."

He returned from the war to complete his degree in Agriculture and worked for the USDA in disease eradication. He would travel all over the country to attend horse races-which remained a lifelong passion. Once, his sister Lois asked him to travel to Weber State to pick up a homesick young college basketball player from Oklahoma who was attending nursing school there so that she could have Thanksgiving dinner with her parents and her old HS basketball coach in Pavillion. It was love at first sight. The next September, Keith married Martha Smith in Rosston, Oklahoma. They would have been married sixty years this September.

Keith and Martha moved to Pavillion, Wyoming and raised their family in the area. He was a teacher at Pavillion and Wind River schools, a compliance officer with the Wyoming Department of Ag, and a member of the Pavillion Methodist Church for over 50 years.

Keith loved agriculture. He loved being in his fields and with his animals. He loved judging in county fairs and attending the Denver Stock Show. His neighbors often remarked that his ranch was probably animal heaven, because he always gave them more food than they could eat.

His principal delight was his family, and in later years he and Martha travelled to all 50 states and throughout Europe with his children and watching his grandchildren compete in sports. He especially enjoyed spending Good Friday in Rome, visiting the Parthenon in Greece, and walking the streets of the Virgin Mary's hometown in Ephesus.

Keith was a praying man, whose principal delight was that every one of his children and grandchildren, and every member of their families knew Jesus Christ as their Savior and he often told them that he knew he would see them in heaven.

Jesus once said "Give and it shall be given unto you; pressed down and shaken together, and running over" (Luke 6:38.)

Keith is remembered by all as a man of generous spirit. Generous with his time, generous with his resources, generous with his love.

He is survived by his sisters: Lois Holman and Shirla Ingram of California and Janice Patik and her husband Ed Patik of Lander. He has one surviving brother: Dumont Blankenship, and his wife Anne, also of California. He is also survived by his wife, Martha A. (Smith) Blankenship and his daughter Suzanne Goff and her husband Ross of Kinnear, his son Marshall Blankenship and his wife Shana of Germany, and his son Gregory and his wife Vickie of The Netherlands.

He is also survived by nine grandchildren and three great-grandchildren: Bryent Blankenship and his wife Danielle of Minnesota and their daughter Brianne, Tauree Peterson and her husband Ryan of South Dakota, Brock and his wife Justine and their daughter Riann of North Dakota, Marshall Blankenship and his wife Darlee and their daughter Mara of Alaska, Annawynn Drury and her husband Reid of Colorado, Dylan Blankenship of Alaska, Russell Goff and Natalie Goff of South Carolina, and Rachel Goff of Casper. He is also survived by many beloved nieces and nephews.

Keith is preceded in death by his father Edd Blankenship, his mother Verna Blankenship, his brother Thaine Blankenship, and his son Bryan Blankenship.

A small service will be held this Sunday at 4:30 pm at the Pavillion Community Church, with a carry-in dinner to follow. All are welcome.

A larger memorial service with military honors will be held this summer to allow all family members to attend. The date and time of this service will be made public at a later time.