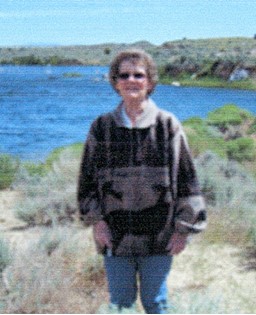 Gloria Bulow
Oct 20, 1942 - Jan 14, 2018
Gloria Ann (Ross) Bulow, 75, passed away on January 14, 2018 at the Wind River Rehab Center in Riverton, Wyoming. Graveside services will be held at Mountain View Cemetery in Riverton, Wyoming on Friday, January 19, 2018, 2:30 p.m. Memorial Contributions to the Friends of Hospice in care of Davis Funeral Home will be appreciated.

She was born on October 20, 1942 in Kemmerer, WY, daughter of Hugh and June (Janes) Ross. The family moved to Crowheart before Gloria began school. She moved around Fremont County with her Dad ranching. Her Dad became the first groundskeeper at the Riverton Country Club around 1955.

On February 19, 1960, Gloria married Ernest W. Bulow in Grand Junction, CO. They soon moved to the Shirley Basin while he drove truck for Brough Trucking. The family moved back to Riverton to farm and ranch for the next 21+ years. Gloria began working at Child Development Services in 2000 as a transportation coordinator.

Survivors include her son, Ernest (Pam) Bulow of Shoshoni; daughter, Bonnie (William) Tierney of Riverton; great grandchildren; Angel, Ernesto, Silas, and Phoebe; granddaughter, Marybeth (Robert) Mayo of Shoshoni and their children, Andy and Luke; brother, Perry (Audrey) Ross of Riverton.

She was preceded in death by her husband, parents, granddaughter, Magdelina Barajas; and brother, Roy Ross.

On-line condolences may be made to the family at www.TheDavisFuneralHome.com. Services are under the direction of Davis Funeral Home.