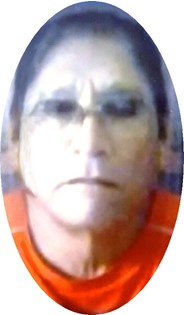 Leo Monroe, Sr.
Sep 18, 1956 - Jan 12, 2018
Funeral Services for Leo H. Monroe, Sr., 61, who died at his home in Ethete on January 12, 2018, will be held at 10:00 a.m., Friday, January 19th at Great Plains Hall. Interment will follow at the Arapaho Catholic Cemetery. A Rosary will be recited 7:00 p.m., Thursday, January 18th at Great Plains Hall.

Leo was born on September 18, 1956 in Lander, Wyoming, son of Fredrick Herman Monroe, Sr. and Joan Caroline (Duran) Monroe.

Mr. Monroe attended the Arapahoe School, Milcreek, graduated from Colter High School before receiving a Certificate in Welding from Central Wyoming College.

He worked as a ShoRap fire fighter, a janitor for the Northern Arapaho Tribes and also for Shot Crete Construction.

Leo's family said that he enjoyed hunting, fishing and watching the Denver Broncos. He also loved caring for his grandchildren and horses and spending time with his family.

Survivors include his father, Fredrick Herman Monroe, Sr., children, Leo H. Monroe, Jr, Lenny Monroe, Levi T. Monroe, Ryan D. Monroe, Leo W. Monroe, Leona Timbana, Xavior Oats, Greyson Redman and Deanna and Rheanna Redman; his companion, Jessica Redman; grandchildren, Lavina, Brandon, Smokey, Gabriel, Levi, Jr., Keenan, Adrian, Julianna, Neveah, Alannah, Shaylyn, Kailyn, Tae'onna, Shantel, Leona, Lexi, Lacy, Haley,Harmony, Alneta, Leighanna, Jonella, and Halo; brothers, Fredrick (Stoney) Jr., Virgil T., Wesley S. Monroe, Michael G. Duran, Delmer Duran, Jr., Verdale Duran, Newell Duran, Forrest Duran, Alfred Duran, Shado Duran, Claudio Duran, Lamar Duran, Dominic Duran, Shane Duran, Gaylen Littleshield, Damon J. SunRhodes, Eric Underwood, Norman and Tomas Ybarra, John Munn, Sheldon, Paul, Brian, and Alfred Bell; sisters, Theda, Beatrice, Trishanna, Rowena Monroe, Erin and Chasity Duran, Caroline Tyler, Diane Underwood, Mary Ellen Pingree, Melissa LittleThunder, Chalice Shakespeare, Stephanie McRae, Claudette C'Bearing, Coreen Wanstall, Prisella, Valerie, and Sandy Bell; aunts, Lorraine (Judy) Duran, Ida Monroe, Beatrice Buckman, Marion Buckman, Leona Buckman, Alva Buckman, Alvina Buckman, and Georgetta Buckman; uncles, Delmer Duran, Sr., Claude Duran, Leo W. Monroe, Kenny Redfield, and Alfred Burson; nieces, Camelia Monroe, Drisella and Amy Durgin, Alfreda Monroe, Gail Ute, Rhonda and Lorenza Monroe, Tonya Monroe and Charlene Monroe; nephews, Steven M. Monroe, Sr., Alfred Monroe, Christopher Monroe, Steven T. Monroe, Craig Monroe, Garrett Monroe, Virgil, Jr., Isaiah and Aynjle Monroe; families of Albert Willow, Teresa Roman, Marguerite Brown and Ben Friday.; and former wife, Kathleen SunRhodes.

He was preceded in death by his mother Joan Monroe; brothers, Ron Monroe, Sr., Alfred Monroe; sisters, Lorraine, Almeta Monroe, Thomasine Monroe, Bobbette Birdshead; son Keenan Monroe; nephews, Shawn Durgin, Lyle Ute; niece Cindy Ute; Grandfather, Keith Goggles; grandparents, Steven and Ida (Willow) Duran and Leo and Mary Eliza (Shoulderblade) Monroe.

On-line condolences for the family may be made at theDavisFuneralHome.com. Services are under the direction of the Davis Funeral Home.