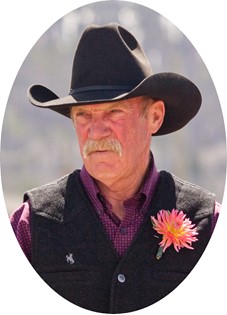 Leon Toyne
Jun 25, 1944 - Feb 12, 2018
Leon Toyne, 73, of Pavillion passed away on Monday, February 12, 2018, at Sage West Hospital – Riverton after a long hard fought battle with blood cancer. A Celebration of Life will be held on Saturday, June 30, 2018, at the Annis Ranch on the Lower Sweetwater backwaters of the Pathfinder. His ashes will be inurned in the family cemetery on the ranch.

Leon Elvin Toyne was born on June 25, 1944 in Lake City, IA to Merritt Cecil and Freda Arlene (Mantz) Toyne. When Leon was twelve years old his family moved from Iowa to Lander, WY. Shortly after arriving in Lander he began his paper route which he worked no matter the weather, even frostbiting his hands one time which always bothered him until he passed. That was the start of his being known as a dedicated and hard worker all of his life. He also worked on local ranches in the area while he attended Lander Valley High School where he was a member of the FFA. He graduated in 1964.

After graduation Leon was drafted into the U.S. Army on October 26, 1965 and served during the Vietnam War. He received many medals for his actions and was wounded at the end of his tour of duty and spent several months in hospitals overseas before being transferred to Fitzsimmons Hospital in Denver, CO. He was honorably transferred to the U.S. Army Reserves as an Army Specialist. He served in the reserves until October 25, 1971.

After returning from the service he continued to work on several ranches in the Lander area. In 1968 at the 4th of July Rodeo in Lander he met the love of his life and on April 5, 1969 he married Amie Pearl Annis in Casper, WY. Shortly after getting married Leon and Amie ventured back to Iowa to work with Leon's Uncle Daryl on the family farm and hog operation. In 1979 they moved back to Wyoming this time buying a ranch and making their home on the Goosberry Creek south west of Worland. In the fall of 1979 he started working for the Worland Sugar Factory and for the next twenty-eight years he spent his time between work and ranching. In 2006 they moved to Otto, WY and he continued at the factory until retiring in 2008. They lived in Otto until 2011 when the ranch they owned sold. Finally in 2012 Leon and Amie bought their last farm in the Pavillion, WY area. They both enjoyed the area and running their cattle until his passing.

Although ranching was his "job" he loved the life style and it was his passion, to him it wasn't a job. He loved spending time with his children and grandchildren. They were his pride and joy. When he did take time for himself he enjoyed watching old Westerns on T.V., reading western novels especially the Louis Lamour books and going through his wish book, The Trader Dispatch.

He is survived by his wife of over 48 years, Amie Toyne; daughter, Lanette Frye and husband, Ron of Three Folks, MT; sons, Cody Toyne and fiancé, Amber Wagoner of Melrose, MT and Casey Toyne and wife, Heather of Parker, CO; brothers, Steve Toyne and Mike Toyne; grandchildren, Randy, Kyle, and Jillian Frye, Blake, Bailee, and Beau Toyne, and Forrest and Nona Wagoner; uncle Daryl Toyne and wife, Barbara; aunt, Maxine Dial (age 97 and last surviving aunt); numerous nieces, nephews, extended family and friends; and his old horse, Jake.

He was preceded in death by his parents, Merritt and Freda Toyne; sister, Connie Arthur; and brothers-in-laws, Richard Annis, Davis Annis, and Gene Arthur.

On-line condolences may be made to the family at www.TheDavisFuneralHome.com.

Arrangements under the direction of Davis Funeral Home.