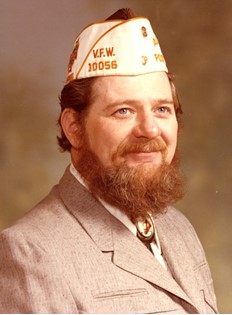 Anthony "Tony" Kane
Feb 15, 1938 - Mar 28, 2018
Graveside military rites for Anthony "Tony" Dennis Francis Kane, 80, will be held 3:00 p.m., Saturday, March 31, 2018 at the Dubois Cemetery in Dubois, WY. Mr. Kane passed away on Wednesday, March 28, 2018 at the Wyoming Medical Center in Casper, Wy.

Tony was born on February 15, 1938 in Palmerton, PA, son of Harry and Anna (Holetcz) Kane. The family moved to Bethlehem and he graduated from Liberty High School in 1956 and later attended Tech School in Bethlehem, PA.

On November 12, 1960, Tony married Nancy Epp in Bethlehem, PA.

Mr. Kane served his country in the Army National Guard for 3 years and was honorably discharged on January 16, 1957. He soon enlisted in the United States Marine Corp, where he served for the next 3 years, receiving a Good Conduct Medal.

Tony worked for Bethlehem Steel for a short time. After he married Nancy, Tony spent the next 10 years working for throwing mill making parachutes for the military. In 1971, the couple moved to Dubois where he worked for US Plywood for 20 years. The company later changed their name to Louisiana Pacific. He then spent the next 20 years in Public Works for the Town of Dubois before he retired. Soon after, Tony owned and operated Tony's Sports World from 1996 until 2006.

Mr. Kane enjoyed collecting coins, baseball paraphernalia including sports cards. He served as a troop leader in the Boy Scouts and on the District 2 School Board for a couple of terms. Tony was a life-member of the Dubois VFW Ramar Brown Post #10056. He called Bingo at the VFW Hall every weekend for over 25 years. Mr. Kane was also an active member of St. Thomas Episcopal Church for many years.

Survivors include his wife, Nancy Kane of Dubois; sons, Michael Kane of Sun Valley, ID and Tom Kane of Dubois; daughters, Carolyn Maddox of Evanston, Judy and her husband, Shawn Beebe of Dubois, and Cathy Dennis of Sheridan; grandchildren, Courtney, Cassidy, Chloe, Hailey, Nick, Jake, Sara, Kendra, Jesse, Nancy Jo, Cory, Dru, Holly, Denika, Cody and Memphis; great grandchildren, Kane, Korben, James, Kieler, Cecil, Daniel, Jameson, Tib, Jamey Lee, Charlie, Bentley, and Victoria.; numerous nieces and nephews.

He was preceded in death by his son, William David Kane and daughter, Barbara Ann Judd.

On-line condolences may be made to the family at www.TheDavisFuneralHome.com. Services are under the direction of Davis Funeral Home.