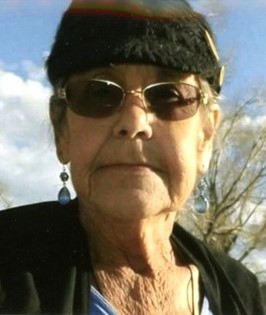 Sarah Vigil
Jul 2, 1944 - Apr 11, 2018
Sarah Vigil, 73, of Riverton passed away at her home on Wednesday, April 11, 2018. A graveside memorial will be held at Mountain View Cemetery on April 20, 2018 at 11:00 A.M.

Sarah Lopez was born on July 2, 1944 in Mission, TX to Pabalo and Carolina (Garcia) Lopez. She was one of twelve children and was raised in Texas.

She was baptized into the Catholic faith.

She moved to Riverton, WY in 1963 from Welch, LA and made it her forever home.

She worked as a cook at many different restaurants including, The Broker, El Durango, and El Tapatio.

She loved to cook and was a great cook. She enjoyed embroidering, knitting, crocheting, bingo, and loved Mexican music the louder the better.

She is survived by her son, Glenn Marcos Smith, Jr. and wife, Darlene; daughter, Glenda Mitchell and husband, Ron Sr.; children she raised, Danika and Dakota McKim; siblings, Pabalo, Henry, Robert, Raymond, Lucy, Juanita, and Carolina; grandchildren, Tasheena, Kristina, Lynnard, Kimberly, Tyler, Kelvin, Emily, Tiffany, and Casandra; and great grandchildren, Julius, Ivory, Milleah, Lenux, Thandi and Goodman Jr.

She was preceded in death by her parents and siblings, Thomas, Luciano, Suzie, and Esperanza.

Services under the direction of Davis Funeral Home.