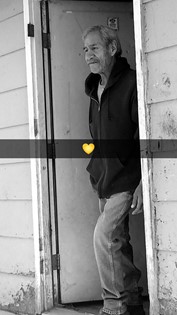 Lonald "Joe" Brown
Aug 20, 1955 - Jun 8, 2018
Lonald Brown, 62, of Riverton, WY passed away on Friday, June 8, 2018. A Native American Service will be held on at Davis Funeral Home on Monday, June 11, 2018, at 5:00 pm. Burial will be held on Wednesday, June 13, 2018, at 10:00 am at the Red Cloud Family Cemetery in Pine Ridge, SD.

Lonald Burnett Brown (aka) Joe Brown was born on August 20, 1955 in Pine Ridge, South Dakota to Francis B. Brown and Delphine J. Red Cloud Brown. Joe attend school at Arapahoe and Wyoming Indian High School on the Wind River Indian Reservation, Wyoming.

Joe was employed at the Arapaho Ranch, worked in the mountains and wilderness as a seismographer setting probes to measure details of earthquakes. He was a roofer that traveled the United States building schools. He worked on the St. Stephen's Indian School roof a feat he was very proud of. He was employed by the Shoshone and Arapaho Tribes Head Start Program for many years. Joe was a long time employee of the Wind River Hotel and Casino until 8 years ago when he was diagnosed with stage 4 colorectal cancer. Joe fought a long, hard battle with cancer until his death on June 8, 2018.

Joe is survived by his daughter Coleen Brown and son's Hank and Truman Piper. Brothers James W. Brown (Elizabeth) of Ethete, WY, Harvey M. Brown of Missoula, Mt., Melvin D. Brown of Ft. Washakie, WY, Dawson F. Brown and Charles R. Brown of Riverton, WY, and Arnold B. Brown of Pine Ridge, SD. Sisters Mary K. Brown of Ethete, WY, Francine I. Tolliver (William) of Casper, WY, Lori A. Brown, Karen K. Brown (Dagg Tollefsen) of Riverton, Valerie J Brown of Casper, WY, Roseline M. Brown and Susannah B. Brown of Riverton, WY.

Joe was preceded in death by his father Francis B. Brown, his mother Delphine J. Red Cloud, Brown and his son Byron V. Brown and grandson Byron Brown.

Joe Brown was a special person loved by children, friends and family. He is a decedent of the two great war chiefs, Black Cole and Lone Bear of the Northern Arapaho and Red Cloud of the Oglala Lakota Sioux. He will be missed by all.