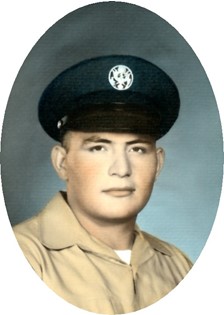 Juan "John" Trujillo
Aug 6, 1939 - Jun 24, 2018
Juan "John" B. Trujillo, 78, of Lander passed away on Sunday, June 24, 2018, at his home. A rosary will be recited at 7:00 pm on Friday, June 29, 2018, at the Catholic Church of the Ascension in Hudson, WY. A memorial mass will be held at 1:00 pm on Saturday, June 30, 2018, at St. Margaret's Catholic Church in Riverton, WY with Father Jim Schumacher officiating. Graveside services will be held at 2:30 pm at the Hudson Cemetery.

Juan Benito Trujillo was born on August 6, 1939 in Costilla, NM to Eloy and Avelinda (Arellano) Trujillo. He grew up in Rock Springs with his one brother and six sisters. He attended grade school through middle school there before the family moved to Fremont County. He attended Fremont County Vocational High School where he played football and was on the wrestling team. While attending school and sports he also worked at the Diane Drive-In Theater which started demanding much of his time so he had to give up the sports. He was a proud graduate with the class of 1958.



Immediately after graduation from high school, he signed up for the U.S. Air Force and was sent to San Antonio, TX for basic training. He remained in the U.S. Air Force for the next twenty years, retiring in 1978. During his time in the service, he completed three tours of duty in Viet Nam, while being assigned to various places, including time at bases in Anchorage, Albuquerque, Denver, and Cheyenne, His last post was at the Pentagon in Washington, D.C. where he retired. After he retired from the service, he returned home to Fremont County and worked for the City of Lander until he retired.

He married Elva Eaton and became father to her three children.

Juan was baptized into the Catholic faith and was an active member and usher at Church of the Ascension in Hudson

He was a member of the Veterans of Foreign Wars in Hudson and Lander.

John spent summers in the yard, he loved gardening and giving away his vegetables. In the winter he spent his time in his most comfortable chair watching his favorite sport – he was an avid football fan. Most of all, though, he loved to spoil his nieces and nephews, and was known lovingly as "Uncle Jay". He always made an appearance on their birthdays with just the right gift.

He is survived by his brother, Ed Trujillo and wife, Carol and family; brother-in-law, George Baldes and family; sisters, Cleo Medina and family, Carmen Majdic and family, Cathy Luoma and husband, Bob and family, Hope Poelma and husband, Edwin and family; step-son, Lonnie Sutter; and step-daughter, Michelle Sutter. All of these families include numerous nieces and nephews, grandnieces and grandnephews, and great grandnieces and great grandnephews.

He was preceded in death by his parents; wife, Elva; two sisters, JoAnn Dollard and husband, Art Dollard, and Angie Baldes; step-daughter, Terry Sutter; brothers-in-law, Manuel Arguello, Armando Medina, and Jerry Majdic.

Memorials may be made to Donor's Choice in care of Davis Funeral Home, 2203 West Main Street, Riverton, WY 82501.

On-line condolences may be made to the family at www.TheDavisFuneralHome.com.

Services under the direction of Davis Funeral Home.