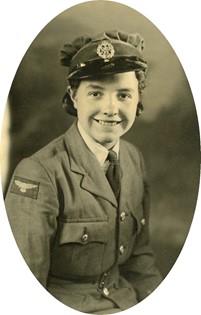 Hannah "Nancy" Moss
Feb 3, 1923 - Jul 2, 2018

A Memorial service for Hannah "Nancy" Moss, 95, will be held at 2:00 p.m., Tuesday, July 17, 2018 at Davis Funeral Home. Interment will be at a later date in Lusk, Wyoming. She died on July 2, 2018 at the Wind River Rehabilitation and Wellness in Riverton, WY.

Nancy was born February 3, 1923 in New Castle, England, daughter of Harry and Rebecca (Cockings) Dowson. Nancy spent most of her childhood years during the Great Depression. During World War II, she served in the Royal Air Force from August 4, 1941 until January 18, 1946. Corporal Hannah "Nancy" Dowson was very proud to have been a part of the war effort, her home, and Nancy's Great Britain.

She married Charlie W. Eutsler in Southampton, England on February 14, 1946. Nancy soon moved to America with her cowboy to Lance Creek, Wyoming. The couple soon welcomed two sons, Carl and Randy. Sadly, Charlie was struck and killed while he was walking home, leaving his widow with a 3 ½ year old and 1 month old baby. Nancy later married James V. Moss who eventually adopted Carl. The couple enjoyed bowling, dancing and fishing.

We, Nancy's family and friends will be lonely without her, but she is with God and we will see her soon.

Nancy was preceded in death by her 2 sons, Randy Eutsler and Carl Eutsler Moss; husbands, Charlie William Eutsler and James Vernon "Jim" Moss; parents; sisters, Lillie and Neil McLaughlin, Elta and Harold Turner and Sadie and Joe Atkinson; brother, Henry and Cona Dowson.

Survivors include her sister-in-law, Colleen Sloan of Sandy, UT, Earl and Gretchen Moss of Stevensville, MT, numerous nieces and nephews in England and America.

Arrangements are under the direction of Davis Funeral Home and Crematory.

On-line condolences for the family may be made at TheDavisFuneralHome.com.