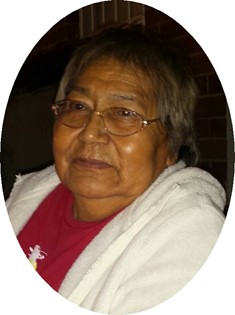 Georgia Gneiting
Jan 16, 1945 - Jul 7, 2018
Georgia Gneiting, 73, of Riverton, passed away at Sage West Hospital – Riverton on Saturday, July 7, 2018. A Jesus Christ of Latter Day Saints prayer service will be held at 7:00 pm on Wednesday, July11, 2018, at Blue Sky Hall followed by the wake. The funeral service will be held at 10:00 am on Thursday, July 12, 2018, at Blue Sky Hall with burial to follow at Yellow Calf Cemetery.

Georgia Chavez was born on January 16, 1945 in Fort Washakie to James Isaac Chaves, Jr. and Teresa (Spoonhunter) Chavez. She was a member of the Northern Arapaho Tribe.

Georgia was a member of the Jesus Christ of Latter Day Saints.

On August 4, 1980 she married, John Gneiting. Through the years they raised their seven children in Montana, Illinois, and Wyoming. She also helped raise her grandchildren.

Georgia loved spending time traveling, attending Powwows, being with her grandchildren and watching the Denver Broncos play.

She is survived by her husband, John Gneiting; daughter, Angie (Melvin) Bates, and children, Lenette Bates and Jamie Bates; son, Ed (Charmaine) AfterBuffalo and children, Alex, EJ, and Rochelle; daughter, Lucille Stump, and children, Purity Meachem, children, Jordan and Jaelah, Patrick (Virgina) AfterBuffalo, children, Payton and Anthony, Zane and Makayla; daughter, Juanita (Wondo) Tarness, and children, Teresa Owens, children, Tianna and Mariah, Nelson Owens, children, Taven and LaRaya, Emalee Owens, children, Lydia; son, James AfterBuffalo and children, Shelli (Sklyer) Littleshield, children, Morning Sky, Edward Shoyo, Patience Adams AfterBuffalo, Jamison AfterBuffalo, and Viviana Adams AfterBuffalo; son, Robert AfterBuffalo, Sr., children, Raven, Mishayla, Robert Jr., and Neveah; and daughter, Evanda (William) Trombley, children, Matasia and Brandon Gneiting; brother, Isaac Chaves, Sr. and family; sister, Jaunita (Melvin) Stamp; and the Trosper and Chavez families.

She was preceded in death by parents, Theresa Spoonhunter and James Isaac Chavez, Sr.; sisters, Pauline Kniffen, Vera Trosper, Deana Whiting, Pricilla Chavezx, and Mary Day; brothers, Bruce Chavez and Donnie Chavez; uncle Papa Joe Chavez; aunt, Lillian Chavez; nephew, Manuel "Manny" Chavez, and niece, Melissa Chavez.

On-line condolences may be made to the family at www.TheDavisFuneralHome.com.

Services under the direction of Davis Funeral Home.