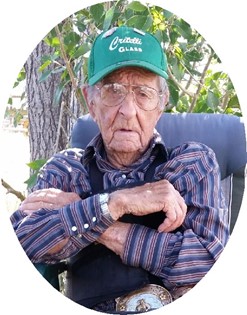 Mervin Stamp
Apr 4, 1926 - Jul 10, 2018
On July 10th, 2018 Mervin H. Stamp passed away at his home in Kinnear, Wyoming. He was 92 years old. Viewing and wake will be held at the family home, 1480 Blue Sky Highway, on Sunday, July 15, 2018, starting at 7:00 pm. Funeral Service will be at 10:00 am on Monday, July 16, 2018, at Blue Sky Hall, with burial to follow at St. Michaels Mission Cemetery.

Mervin was born on April 29, 1926 in Inman, Nebraska to Clyde Maple and Lila Bell Maple.

He spent his younger years in Nebraska and left home when he was at a young age. In his twenties, he joined the Army and was honorably discharged in 1955. While he was in the service, he joined a Mule Pack Company which he enjoyed.

After the service he resided in the Casper area with his sister, Viola Maple at a small ranch in the Powder River area.

In Casper he met and married Juanita A. Chavez on January 29, 1961. They were married 55 years. They moved to the Riverton area and resided there most of his life.

Mervin was well known by his nickname "Shorty" by everyone.

Shorty Stamp worked several jobs in the area including truck driving and construction.

He enjoyed the outdoors, fishing or camping in the Wind River Mountains, or just sitting around talking with family and friends.

He spent most of his life in the area and became an accepted member of the Northern Arapaho Tribe.

Shorty will be missed by everyone who knew him.

He is preceded in death by his brother, Raymond Stamp; sisters, Viola Maple and Lilian Stamp; sons, Mervin H. Stamp Jr. and Mathew S. Stamp; and daughter-in-law, Sonya L. Willow.

Mervin is survived by his wife, Juanita Stamp; sons, Kevin and Allyn Stamp; grandsons, Dylan and Kobe Stamp; granddaughter, Alexis Stamp; daughters-in-law, Mary Stamp and Lisa Gonzalez; sister, Loralene King and relatives from here and the area where he grew up as a child.

Shorty will be greatly missed as a husband, dad, grandpa, and friend.