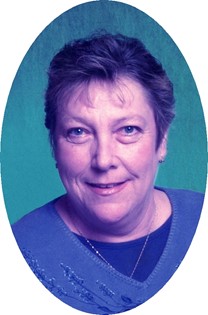 Karen L. Forschler
Dec 10, 1957 - Jul 30, 2018
Karen L. Forschler, 60, of Riverton died Monday, July 30, 2018 at her home in Riverton. A Celebration of Life will be held Monday, August 6, 2018 from 4:00 – 7:00 p.m. at the Riverton Elk's Lodge, 207 E. Main Street.

Karen Lee Forschler was born December 10, 1957 in Elgin, Illinois to Kenneth LeRoy Halversen and Barbra (White) Jane Halverson. She graduated high school in Frederick, Wisconsin in 1976. In 1978 she moved to Riverton with her family. On August 25, 1979 she married Joseph Thomas Forschler in Riverton. Together the couple had two daughters.

She enjoyed baking, cooking, keeping the house clean, was a 4H Leader and a Girl Scout Leader, and enjoyed Facebook. She especially loved her dog, Max.

She was a member of the Riverton Eagles Club where she held offices.

She is survived by her husband of 38 years, Joseph Forschler; daughters, Jane Forschler Barrett and husband Scott of Pavillion and Rachel Forschler of Riverton; three grandchildren Devin, Joseph, and Colby; three brothers, Craig, Lance, and Lane Halversen.

She was preceded in death by her parents, Kenneth and Barbra; sister, Brenda Flodin, and brother, Bruce Halversen.

Memorials may be made to the Frontier Friends of Hospice, Help for Health Hospice or the Paws for Life Animal Shelter in care of the Davis Funeral Home, 2203 W. Main Street, Riverton, WY 82501.

On-line condolences may be made at TheDavisFuneralHome.com

Arrangements are under the Direction of the Davis Funeral Home of Riverton.