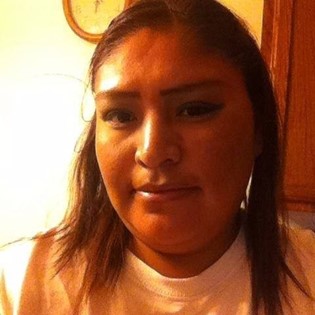 Tianna Trumbull
Aug 17, 1985 - Jul 30, 2018
Tianna Trumbull, 32 of Lander passed away at the Wyoming Medical Center after a lengthy illness. A rosary and wake will be held on Friday, August 3, 2018 at the home of John Crispin located at 530 Blue Sky Highway starting at 7:00 pm. The funeral service will be at 10:00 am on Saturday, August 4, 2018, at St. Stephen's Catholic Church. Burial will follow at the Arapaho Catholic Cemetery.

Tianna Kay Trumbull was born on August 17, 1985 in Laramie, WY to Vonda K. Crispin and Clark Trumbull, III. Tianna attended Arapaho Head Start at Great Plains, Wyoming Indian, and St. Stephen's High School.

Tianna was baptized into the Catholic faith and also believed in the Northern Arapaho Sundance.

She lived most of her life in the Lander area. She did move around some but always came home to Lander.

She had numerous occupation during her life time but one she did the most was security at gathering such as the Powwow's and Sundance.

Tianna was a great cook and volunteered to cook for many gatherings. She also enjoyed listening to music, going to the casino, and being on Facebook.

She is survived by her mother, Vonda Crispin; sons, Clark Cady, Levi Cady and Zayden Trumbull; daughter, Morilynn Trumbull; brothers, Shaw Whiteman, R. Bub Shoyo, Brian, Cory, Guy, and Horace SunRhodes, Thomas Crispin, Chris and Jonathan C'Hair, Austin and Kobee Kitchin, LeRoy Revere, Jason Stevenson, Cederick Shakespeare, Jaydee Roberts, Darwin Spoonhunter, Tsani Arneach, Lee and Mick Spoonhunter, and Raymond Antelope; sisters, Lexi R. Coando, Tyla and Mollie Trumbull, LaRae Shakespeare, Shawna, Aleeah, and Michelle Crispin, Kandy, Rosetta, and Rachel Antelope, and Kayla Oldman; special nieces, Bria Smith, Dezi and Nia C'Hair; and special nephews, Billy Smith and Braden and Mitchell C'Hair III.

She was preceded in death by her father, Clark Trumbull III; grandparents, Molly and Clark Trumbull, Jr. and John Crispin, Sr.; sister, Karen Trumbull; and numerous other relatives.

On-line condolences may be made to the family at www.TheDavisFuneralHome.com.

Services under the direction of Davis Funeral Home.