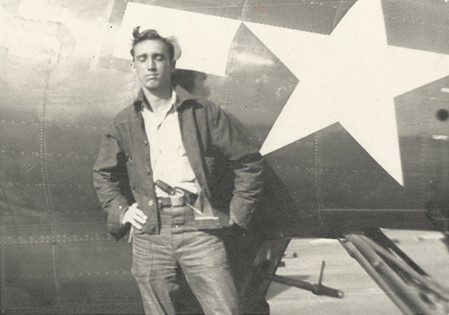 Bright N. Springman
Oct 3, 1924 - Aug 13, 2018
Bright N. Springman, loving and devoted husband of Louise and loving and proud father of Brandt passed away peacefully Monday morning, August 13, 2018 in Riverton. He was 93. Funeral services will be at 2 p.m., Saturday, August 18, at the Davis Funeral Home in Riverton. Interment will follow at the Collins Cemetery. There will be a viewing from 6 to 8 p.m. Friday, August 17, at the funeral home.

Bright N. Springman was born October 3, 1924 in the town of Sunbury alongside the Susquehanna River in central Pennsylvania. The family moved as his father changed positions with the Pennsylvania Railroad first to Baltimore and then to Philadelphia where he and his two older brothers Bob and Jack and younger sister June grew up.

His mother was proud that he along with his two brothers all served their country during World War II, Bright joining the United States Navy after high school. He was recognized in his hometown Philadelphia newspaper for receiving a perfect score on the flash silhouette airplane recognition test as he went through Navy training. He then served as a Wildcat Plane Captain aboard the USS Savo Island escort aircraft carrier (CVE-78).

After the war he went to the Carnegie Institute of Technology and graduated with a degree in Industrial Design. He worked at a steel mill near Harrisburg PA before moving to Washington D.C.. In Washington he designed exhibits for the Smithsonian Museum where he met his future wife Louise during the summer bus strike when everybody was carpooling to work. They married on April 18, 1963 and his son Brandt was born in 1965.

He then worked for the US Information Agency designing exhibits about US Agriculture and US Machinery that were sent to Moscow to show the Russian people what type of country we had. He then designed many exhibits for the US Geological Survey, including one describing the events at Mount Saint Helens.

He enjoyed time spent with his sister June and her family in New Jersey and his brothers Bob and Jack and their families in Pennsylvania. He enjoyed time spent with his wife's relations in Wyoming and in 1985 he and Louise moved back to where she grew up in Wyoming. He enjoyed spending time on the Little Wind River with her and Brandt.

Throughout his later life he hoped to help improve the situations that people lived in by writing letters to the editor on many topics including defending his own community from being paved over by eminent domain by greedy developers and by helping protect wildlife and the environment generally. He opposed the second Iraq war.

While in Wyoming he took up stone sculpting, working in Alabasters, Serpentine and Black Soapstone. He made several close friends both at the CWC Art School and in the community. With their help, which he appreciated very much, he kept sculpting and displaying his works in several shows at the Riverton Library and the Nicolaysen Art Museum in Casper. Two of his favorite displays were at the Riverton Children's Center for Arts, Technology and Science museum (CATS) and at the Dahl Arts Center in Rapid City South Dakota where there was a show of his tactile sculptures that many people with sight limitations enjoyed seeing and feeling.

He was a fan of the Philadelphia Phillies.

He is survived by his son, Brandt Long Springman of Riverton; sister June Weintraub of Haddon Heights N.J., sister-in-law Thelma Roberson of Riverton WY, brother-in-laws Clayton "Buzz" Long of Mesa, AZ, and LeRoy "Tiny" Long of Riverton, many nieces and nephews as well as close friends Dawn and Josh Addison of Arapahoe WY.

He was preceded in death by his wife of 46 years Louise L. Springman; his parents Clarence H. and Maude Snyder Springman; his brother Robert Springman and his wife Winifred "Winnie" of Langhorne PA, his brother Jack Springman and his wife Marie of Sarasota FL and first wife Helen of Middleburg, PA, his brother-in-laws Herb Weintraub of Bloomingdale NJ, Sonny Portwood and his wife Anita of Riverton WY, his sister-in-laws Edna Wood and her husband Everett of Albuquerque NM, and Marjorie "Margie" Thomas of Billings MT; brother-in-laws Raymond Long and his wife Lorraine of Casper WY, Dale Roberson of Casper WY, Reno Long and his wife Evelyn of Riverton WY, Eugene Long and his wife Mary Anne of Leo WY, Leon Long of Riverton WY, Fred Long of Big Piney WY, and John Long of Rawlins WY.

On-line condolences may be made to the family at www.TheDavisFuneralHome.com.



Memorials may be made to the Wyoming Outdoor Council in care of Davis Funeral Home, 2203 West Main Street, Riverton, WY 82501.



Services under the direction of Davis Funeral Home.