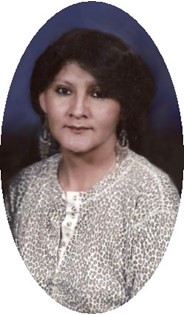 Mary Addison
Mar 10, 1963 - Aug 22, 2018
A Funeral Mass for Mary Etta Addison will be held at 10:00 a.m., Monday, August 27, 2018 at St. Stephens Catholic Church with Father Jim Heiser officiating. Interment will follow at Sharpnose Cemetery. A Rosary will be recited at 7:00 p.m., Sunday, Aug 26th at the residence of Irene CrazyThunder, 403 Left Hand Ditch Road with a wake to follow.

Mary Etta Addison, 55, died on August 22, 2018 at SageWest Hospital in Lander, Wy.

She was born on March 10, 1963 in Riverton, Wyoming, daughter of Charles Manderson and Rose Mary Dewey.

Mary grew up and attended schools in St. Stephens, Wy and has remained in Fremont County her entire life. She married Lee S. Addison, Sr., and the couple had two children, Victor Addison, Sr. and Lee Addison, Jr.

During the 1990's, Mary worked as a CNA at Westward Heights Care Center in Lander, WY.

Mary enjoyed spending her time and sharing her stories with her family and friends. She practiced and followed the Northern Arapaho culture and traditions and also enjoyed listening to music and having a good time. She was a baptized member of the Catholic Church and Native American Church.

Survivors include her son, Victor Addison, Sr.; siblings, Cora Addison and family, Robyn Manderson, Vernon Manderson, Karen Manderson, Betty Friday, Irene CrazyThunder and Krystal Blackburn; the extended families of Dewey, Addison, Friday, and Bushyhead; grandchildren, Bluebird TalksDifferent, Fear TalksDifferent, Montana Sky TalksDifferent, Alvin TalksDifferent, III, Precious Dreamer TalksDifferent, Nylena Jealous of Him, Deja SunRhodes, Haile Addison, Jesiah Addison, Victoria Addison, Jairus Addison and Elijah Lonebear.

She was preceded in death by her husband, Lee S. Addison, Sr.; parents; 3 sons, Lee Addison, Jr., Javen TalksDifferent, and Alvin "Shafter" TalksDifferent; sister, Edna Antelope, Twyla Dewey and Krystal Dewey; brother, Dean Dewey; grandchildren, Victor Addison, Jr., SnowShield TalksDifferent and Elena Frazier TalksDifferent.

On-line condolences for the family may be made at theDavisFuneralHome.com. Services are under the direction of the Davis Funeral Home.