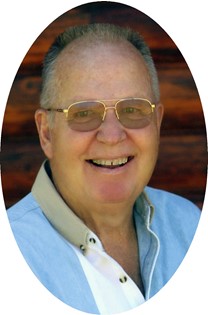 Charles "Ron" R. Bailey
Feb 5, 1937 - Aug 29, 2018

Charles "Ron" R. Bailey, 81, of Riverton died August 29, 2018 at Westward Heights Care Center in Lander. There will be no services held at this time.

Charles Ronald Bailey was born February 5, 1937 to Charles Vern and Nancy Floy (Fowler) Bailey in Lyman, Nebraska.

Ron moved from Nebraska to Pavillion with his family at the age four. They lived on various farms in the Pavillion area. He attended grade school in Pavillion moving to Riverton at the age of 14. Ron played basketball for Riverton High School holding the record for highest amount scored in one game for over 15 years. He graduated from Riverton High School with the class of 1955. Following High School he joined the U.S. Air Force serving four years and attaining rank of Airman First Class.

On June 10, 1971 he married Artis (Odell) Bailey in Green River, Utah. They were married for 47 years.

After being Honorably Discharged from the U.S. Air Force and returning to Riverton, Ron leased a Phillips Service Station on Main Street for one year. In 1963 with the opening of the V-1gas service station, Ron managed that location for two years. Then Ron leased the Gene Lee location on South Federal and purchased the property in 1971. Later that year, they rebuilt the facility and renamed it Bailey's Super Service.

In 1969 the Baileys opened the Pit Stop in Dubois. In 1982 they purchased the George Swan Texaco Service Station and rebuilt the facility, today known as Pit Stop #1 on West Main. In 1983, the Pit Stop #2 on North Federal Blvd. was built, and the Lander Pit Stop began operations that same year.

The Baileys operated Phillips 66 Wholesale for over 35 years. They operated their facility as a tire, accessory, and service center, changed to Sinclair brands in 1999. In 2001 the Baileys purchased their own trucks to deliver petroleum at all their own entities.

Ron retired in February of 2002. Today the Bailey business remains in the family, owned by Mike Bailey, who has worked the family trade since he was 12 years old.

He was of the Methodist Faith.

The family said Ron enjoyed snowmobiling, traveling the United States, and spending time with family and friends. Ron and Artis also enjoyed wintering in Florence, Arizona.

His survivors include his wife, Artis; sons, Mike Bailey and wife, June of Riverton, Darren Bailey and Terry Burwell of Riverton; daughters Darsi Buss of Riverton, Janeen Malkovich of Fallon, Nevada; step children, Scott Schooner of Tahsis, British Columbia, Bret and Cyndi Schooner of Casper, Link Schooner of Thayne, WY; 22 grandchildren; and 26 great grandchildren.

He was preceded in deathy by sister, Leah Bailey in May of 2008; parents; grandson, Adam B. Bailey; granddaughter, Kymbrlee (Bailey) Smith; son-in-law, Daren Buss; and daughter-in-law, Jude Schooner.

Donations may be made in Ron's Honor to the local charity of choice in care of Davis Funeral Home, 2203 W. Main Street, Riverton, WY 82501.

On-line condolences may be made to the family at www.TheDavisFuneralHome.com.

Arrangements under the direction of Davis Funeral Home.