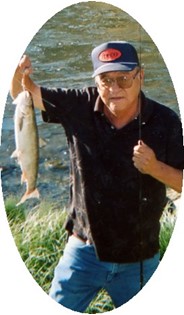 Kenneth Blackburn, Sr.
Jan 23, 1948 - Sep 4, 2018
A Funeral Mass for Kenneth John Blackburn, Sr., 70, will be held 10:00 a.m., Saturday, September 8, 2018 at St. Stephen's Catholic Church with Father Bryce Lungren officiating. Interment will follow at the Arapaho Catholic Cemetery with military honors. A Rosary will be recited at 7:00 p.m., Friday, September 7th, at St. Stephen's Catholic Church with a wake to follow at 113 Goes In Lodge Rd.

Mr. Blackburn passed away at his home on September 4, 2018 surrounded by his family.

He was born on January 23, 1948, son of Seth and Lucia (Brown) Blackburn on the Wind River Reservation. Kenneth also went by his Indian name "High Flying Eagle" or "Special K." He grew up on the Wind River Reservation and graduated from St. Stephen's High School. He proudly served in the United States Army from 1968 until 1970 during the Vietnam War.

On January 18, 1973, Kenneth married Evelina SunRhodes in Riverton, Wyoming. They spent most of their life living on the Wind River Reservation but also lived in Portland, OR, Tacoma, WA and Casper, WY.

He worked for BIA Roads as a Heavy Equipment Operator and also as a ShoRap Firefighter.

Kenneth enjoyed spending time with his grandkids. He also had a great interest in fishing, playing horse shoes, camping, hunting, working on cars, attending Pow Wows and leatherwork.

He was a Baptized member of the Catholic Church and active in Native American Ceremonies. He was also a member of the Arthur, Antelope, Brown Post #84, Legion Member.

Survivors include his wife, Evelina Blackburn; sons, Martin Blackburn, Sr.; W. Ryan Blackburn and Kenneth "J.J." Blackburn, Jr.; daughter, Brenda and Pat Hubbard; brother, Dan Brown; sisters, Bernice Emarthle, Patricia Snook, and Joanne Blackburn; grandchildren, Cameron Other Bull, Shado, Feather, Passion, Max'Al Blackburn, Aquilo Friday, Martin Jr, Aurelia, Annamae Blackburn, Jordan Shoyo, Hiisis, Reece, Auree, Jaelah Blackburn, Aliyah Hubbard and Evelina and Angelina Blackburn; great grandchildren, taven, Athena, Rueben OtherBull, and Quincy Oldman; the families of C'Hair, Headley, Brown, Blackburn, Lujan, Tyler,and Yellowbear.

He was preceded in death by his parents, Seth and Lucia Blackburn; grandparents, Gregory Blackburn, Sr. and Sarah Shavehead, Augustine Brown; son, Donovan C. Blackburn; brothers, Howard, Tommy, Charles, Linus, Edward, Jimmy, Johnny, Arthur, Mickey Blackburn; sisters, Catherine "Joy" Hurley, Alice Molash, Lillian Kane, Peggy, Elizabeth and Lucilla Blackburn Pino; aunts, Mary Brown Moon, Josephine Brown Harjo, Loretta and Lucille Headley, Louis and Philomena Lujan; uncles, Leo Headley, Sr., Anthony Brown, Basil and Gregory Blackburn; God Daughter, Kristen SunRhodes.

On-line condolences for the family may be made at theDavisFuneralHome.com. Services are under the direction of the Davis Funeral Home.