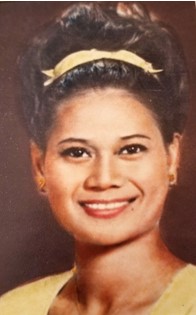 Lydia Floren Niles
Sep 3, 1937 - Oct 5, 2018
Lydia Niles, 81, of Riverton passed away on Friday, October 5, 2018, at the Wyoming Medical Center in Casper, WY. A private family memorial service will be held in the spring of 2019.

Lydia Floren was born on September 3, 1937 in Dumaguete Philippines to Juan Floren and Gorgonia Lemato. She grew up in the Philippines. Thirty five years ago she moved to Riverton with her husband, Leslie Niles. Riverton was her forever home and where she raised her two children, John and Rose.

She was baptized into the Catholic Faith.

Lydia worked at Eaton on the assembly line. She loved being there and took great pride in the work she was doing.

She loved to "pretty" herself with nails, jewelry, hair, and clothes. She loved to cook and made meals for all of her friends. Above all she loved spending time with her grandchildren.

She is survived by her son, John Niles; daughter, Rose Coburn and husband, Cliff; brother, Bocobo Floren of the Phillippines; grandchildren, Keith (Aubree) Kautz, Marisha (Jed Hernandez) Graves, and Tyler Graves; and great grandchildren, Brandon Kautz, Brooklyn Kautz, Kyson Kautz, Keston Kautz, and Lukas Graves.

She was preceded in death by her parents; husband, Leslie Niles; and companion, Chester Sutherland.

On-line condolences may be made to the family at www.TheDavisFuneralHome.com.

Arrangements under the direction of Davis Funeral Home.