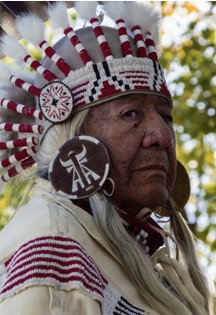 Mark Joseph Soldier Wolf
May 10, 1931 - Nov 9, 2018

We are celebrating the traditional life of the last grandson of Chief Sharp Nose. Mark Soldier Wolf born in 1931 to Irene Inez Little Ant and Scouts Enemy aka Scott Dewey. His maternal grandparents were Northern Arapaho and Cheyenne, his grandmother was Cassie Little Ant aka Red Necklace and grandfather was Soldier Wolf aka Charles Little Ant. Mark's paternal grandparents were Sweet Grass and his grandpa was Chief Sharp Nose. Mark's Arapaho name was Hooxei Benenen- Soldier Wolf, he was given this name by his maternal grandfather. Mark attended boarding school at St. Stephens Indian Catholic School. He graduated from St. Stephens Indian School with a high school diploma and was sent off to another boarding school- Haskell Indian School. He attended Haskell for a year before running away and coming home to his grandparents. He was then drafted into the Korean Conflict in 1948 and spent 5 years serving in the Korean War. Mark left the Korean Conflict as a Lance Corporal 2, Special Forces 4.

Mark was honorably discharged on April 29th, 1952 from San Diego, California. In September 10, 1953 he married Florita Revena Brown White Bull/Posey aka Dawn Woman. They raised 10 children. 5 boys and 5 girls, they also raised numerous nieces,nephews, grandchildren and adopted through Native Ways at numerous pow wows. They had been married for 65 years in 2018. Five years later in 1958 Mark founded the Sharp Nose Memorial Club who raised money to establish a headstone to honor Chief Sharp Nose. Mark's studied Geology and Archaeology at the University of Wyoming and worked on numerous jobs and founded his own tribal consulting firm; before NOLS was established, in 1960's Mark climbed and tracked for Tom Petzle and Larry Higby , reaching and sleeping in the Teton's and Chimney Rock while looking for missing planes and people. In the 1980's with all of his knowledge of tracking and his traditional knowledge Mark founded "Soldier Wolf Consultants" through this knowledge of Cultural Resource Management it was his second love in life in saving and protecting sacred sites was his mission in life and his way he honored his Grandpa Sharp Nose. Mark worked for many years with the Anthropology Department for the University of Wyoming, Charles Reher, George Frison, and numerous others. He also worked many years with James Lowe. Mark participated in his traditional ceremonies. He participated and sponsored in Arapaho Sundance-Wolf and War Bonnet Society, Cheyenne Sundance-Elk Horn Scrapers and Lakota Sundance-Red Leaf Society. Mark's love for horses has always been evident. He owned horses all his life. He had always reminded his family they are people of the Horse.

In 1999 Mark helped re-introduce the Grey Wolf back to Yellow Stone, Wyoming producing a documentary- Wolf Nation. In the early 2000's Mark along with 3 other Arapaho elders changed the Mascot and celebrated the Arapaho High School in honoring the tribe in their ancestral homeland. In 2001 Mark attended the Winter Olympics Opening welcoming all participants, working alongside with Geoff O'Garra. Amongst many other projects Mark lived his traditional way of life speaking his Arapaho Language. Mark was fluent in Cheyenne, Lakota, Shoshone, French and Spanish. Mark attended many pow wows frequently dancing his style of Wolf Dance wearing his War Bonnet. Mark traveled the pow wow circuit meeting many tribes and visiting with relatives. Mark has met many National and International people through dancing and educating people about who Native Americans are. His favorite project was the acknowledgement of the "Council Tree" in Fort Collins, Colorado. In 2017 Mark's lifelong dream to bring his uncle Little Chief back home from Carlisle Pennsylvania who was buried there for the last 134 years was finally seen and had given him closure. Mark joins all his ancestors in the afterlife and like chiefs before him he has passed down much of his knowledge to be preserved for future generations. As Mark would say, "Never forget what our ancestors died preserving and protecting!" Mark also would say, "March soldiers, Triple Time". He will be greatly missed not only by family and friends but all that will need direction in life.