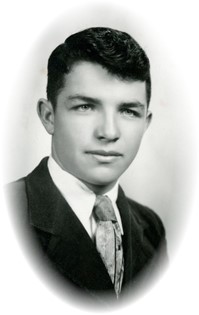 James "Jim" Webb
Jun 23, 1935 - Dec 3, 2018
James "Jim" Webb, 83, formally of Riverton passed away on Monday, December 3, 2018, at the Humboldt Hospital in Winnemucca, NV. A rosary will be recited at 7:00 pm on Sunday, December 9, 2018, at Davis Funeral Home. A viewing will be held one hour (6:00 pm -7:00 pm) prior to the rosary. The funeral mass will be at 2:00 pm on Monday, December 10, 2018, at St. Margaret's Catholic Church. Interment will follow at Mountain View Cemetery with Military Honors.

James Joseph Webb was born on June 23, 1935, in Casper, WY to Whyde James and Dorothy Loree (Cristler) Webb. He was raised on the family farm outside of Riverton. The Webb and Wood families owned farms along what is now known at Webbwood Road. Jim grew up with his brother Jerry, working on the farm. He attended Riverton High School where he played sports and was a member of FFA, graduating with the class of 1953.

Jim was baptized into the Catholic faith and was a strong member both in Riverton and Winnemucca. He served on the Riverton Church Council.

After high school he joined the U.S. Navy serving during the Korean War and was honorably discharged. He returned to Riverton and made it his home until he moved to Winnemucca, NV in 1988.

He was married to Lorraine Cottenoir and together they had five children.

Jim started working for the Uranium Mines when he returned to Riverton and soon became a General Foreman. After the mines closed in Fremont County he relocated to Winnemucca where he was a General Foreman for a Gold Mine until his retirement. He remained in Winnemucca until his passing.

He was a member of the B.P.O.E. "Elks" both in Riverton and Winnemucca.

Jim was an avid sports fan especially baseball and women's softball. All of his girls played softball and his son played baseball from the time they could catch and into adulthood. He was instrumental in starting the Riverton Little League program and was involved until he moved. He loved being around his grandchildren whether it is was just visiting or watching their activities.

He is survived by his son, Justin Webb and wife, Flo; daughters, Jamie Giddings and husband, Troy, Kellie Webb, and Marcel Johnson and husband, Marty; grandchildren, Jorden Giddings, Hattie Calvert, Kaitlin Calvert, Sadie Posey, Lynnsey Johnson, Taylor Johnson, Jennae Johnson, Mardi Johnson, Xaiver Webb, and Nancy Webb; numerous nieces and nephews; and members of the Cristler, Webb, and Cottenoir familes.

He was preceded in death by his parents, Whyde and Dorothy Webb; son, Reg Webb; grandson, Brandon Giddings; brother, Jerry Webb; and Lorraine Webb.

On-line condolences may be made to the family at www.TheDavisFuneralHome.com.

Services under the direction of Davis Funeral Home.