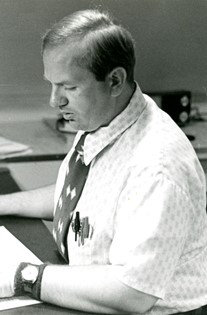 Gary Stark
Dec 20, 1948 - Dec 11, 2018
Funeral services for Gary Alan Stark, 69, will be held at 12:30 p.m., Saturday, December 15, 2018 at the Church of Jesus Christ of Latter-day Saints, 430 Elizabeth Dr., Riverton, WY with Bishop Brock Olson officiating. Interment will have been held at an earlier date at Mountain View Cemetery.

Mr. Stark passed away on December 11, 2018 at his home in Arapahoe, Wyoming surrounded by his loving family.

He was born on December 20, 1948 in Riverton, WY, son of Rolland E. and Maxine (Arnett) Stark.

Gary attended schools in Riverton, where he graduated from high school in 1967. He then went on to attend Central Wyoming College and the University of Wyoming for 3 years.

He was an active member of the Church of Jesus Christ of Latter-day Saints and served a two year mission in southern California. He also served as a family history consultant, church auditor, librarian as well as Stake Sunday school Secretary.

Gary worked as a bookkeeper for various businesses as well as a night auditor, Arapahoe post office clerk and substitute teacher.

He enjoyed spending his time collecting rocks, coins, stamps and business cards. Gary was an avid genealogist and also wrote many letters to others.

Survivors include his wife, Shiela Stark of the family home in Arapahoe; son, LeRoy Stark and his wife, Arwen, also of Arapahoe; 3 grandchildren, Piper, Riley and Cody Stark; brothers, Ron and his wife Glenda Stark of Louisiana, Mike and his wife, Shirley McGonigal of Aurora, CO; niece, Kim Hiemke, nephew, Michael McGonigal, Jr.

He was preceded in death by his parents and grandparents.

On-line condolences may be made to the family at www.TheDavisFuneralHome.com.

Arrangements are under the direction of Davis Funeral Home.