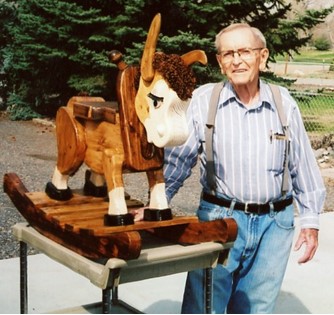 Walter "Walt" Weber
May 27, 1926 - Jan 21, 2019
Walter Eugene Weber, 92, of Riverton, Wyoming passed away on January 21, 2019 at the Help for Health Hospice Home in Riverton, Wyoming. A Memorial service will be held at 11:00 a.m., Saturday, April 27, 2019 at the Cornerstone Community Church with burial at Mountain View Cemetery with Military Honors.

Walt was born on May 27, 1926 to Thelma and Walter Weber in Homestead, Pennsylvania. In 1931 the family moved to rural Munhall, Pennsylvania. Walt spent his youth there until entering the military in 1944.

Walt was trained as a bomber radio operator but spent his military hitch as part of the occupation forces in Germany. He was released from the military in 1946 as a Sergeant in charge of the motor pool.

Walt was a gifted guitarist and he and a dear friend, Nick Simque began a tour of visiting army buddies across the USA. On one of their journeys they visited a buddy in Pavillion, Wyoming. After working and playing for dances at the local VFW Club, they knew they had found a new home. Walt tried share cropping but that was interrupted by the Korean War.

The military called up all the radio operators who still had reserve duty and Walt was one of them. They needed bomber crews but found they had more crews than airplanes and after a few months they turned Walt loose.

When Walt returned, he realized that there was more need for housing than for farmers and applied for a carpenter's apprenticeship. After completing the apprenticeship he found the opportunity to start his own General Construction business which he operated for more than twenty years.

Walt married Dixie Wolf originally from Waterloo, Iowa. Together they had one daughter. They later divorced and a few years after he married his adoring wife of 45 years, Billie Sue Madden, on April 22, 1972. The building business was slowing down in the early 80's in Riverton, Walt and Billie purchased the Crosswinds Restaurant and changed the name to "The Trailhead Restaurant." That is where their time and energy was spent until they both retired.

Walt was a hard working individual who never had time to sit still. He was always up for a challenge and had many interest and hobbies. He loved to gather a group of family and friends and go snowmobiling or 4-wheeling and fishing in the upper country of Dubois. He was a GREAT boss, gifted guitarist, craftsman, woodworker, gardener, and also obtained his private pilot's license. He was a proud, honest, and fair man with a great spirit and attitude towards life. He was a kind, generous, thoughtful, and multitalented person who always made time for his family. We were truly blessed to have him in our lives! He was loved and will be missed by many!

He is survived by his brother, Duane Weber (Kathryn): daughters, Rebecca Walters (Rod), Jamie Odermann (Leo), and Shay Smith (Scott); sons, Eugene Arnell (Lisa); grandchildren, Jasmine Walters, Whitney Hookham (Scot), Jed Odermann, Courtney Pelzer (Sean), Zachary Arnell, Jacob Arnell, Brook Belsom, and Lisa Rauert; nine great grandchildren and numerous nieces and nephews.

He was preceded in death by his wife, Billie Weber; parents, Walter and Thelma Weber; brother, Darrell Weber; and step son, Leslie Robert Belsom.

On-line condolences may be made to the family at www.TheDavisFuneralHome.com.

Memorials may be made to Help for Health Hospice in care of Davis Funeral Home, 2203 West Main Street, Riverton, WY 82501.

Services under the direction of Davis Funeral Home.