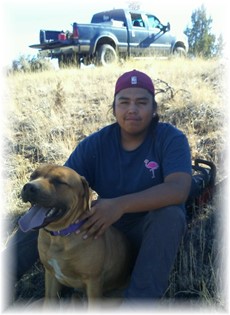 Braedan Black
Mar 6, 2003 - Jun 1, 2019
Braedan Black, 16 of Riverton passed away on June, 1, 2019, in an automobile accident. A rosary will be recited at his grandmother Denise Bearing's residence on Saturday, June 8, 2019, at 4030 Sandy Lane, Riverton starting at 7:00 pm. A second rosary will be recited at his parents' home on Sunday, June 9, 2019, at 3060 Cooper Road, Riverton, starting at 7:00 pm. The funeral mass will be held at St. Stephen's Catholic Church on Monday, June 10, 2019, at 10:00 am. Burial will follow at 3060 Cooper Road.

Braedan Echo Black was born on March 6, 2003 in Monticello, UT to Tyrone Ernest and Misty Dawn Echo Black-Atene. He grew up around the western states including, Blanding, UT, Flora Vista, NM, West Valley City, UT, Monument Valley, UT, Tulsa, OK, and Bismark, ND before moving to Riverton, WY.

He was a sophomore at Riverton High School. While attending he participated in band, football, and indoor track.

He belonged to the Native American Church, attending sweats and enjoyed helping with the Sundance.

His first job was at McDonald's in Riverton.

He enjoyed biking, fly fishing, camping, hunting, traveling, and loved being in the outdoors. He also was a gamer, interested in auto mechanics, and working out. Braedan loved hanging out with his friends and all his brothers and sisters.

He is survived by his girlfriend Alexis Oldman, his parents, Tyrone and Misty Dawn Black-Atene; sister, Brailey, Hailey, Jordan, Dana Black, Karis , Kalena James, Denica, Kassadee Black, Jase, Jasmai Tsosie, Danyah George, Claramae, Nadia, Dezbah, Charlie Armajo; Brothers, Trent and Trevor Atene, Tanner Armajo, Beans, Isaac Jr., Ty Bell, Ronin Bridger, Khalil James, Quenton, Daniel, Kyle Black, Carter, Oakley, Carmaine Bearing Black, Jayven and Tydrich George. His grandmothers Denise Bearing and Delphine Atene; Grandfather Dan Black Sr.; Uncles Al Sayitsey, Ivan George, Dan, Jr., Sorrel, Dennis and Eli Black, Michael James, Jasper Tsosie; Aunts Crystal Police, Shelia Parrish, Fawnna And Danielle Black, Matilda George, Nicola Black, Gerilyn Pleets, His Adopted dad Isaac Bell, Sr., Families of C'Bearing, Littleshields, Antelopes, Spoonhunters, Weeds, Trumbulls, Potters, Langs, Jones, Blacks, Atenes and Police; Grandpa and Grandma Scott and Elsie Atene, Uncle Delino Atene

He was preceded in death by his paternal grandfather, Clarence Police; paternal uncle, Dave Daniels; maternal grandmother, Ruth Black; maternal grandfather, Johnny Black; grandfather, Dudley C'Bearing; grandmother, Eugenia Bearing; and Rose and Dennis Bearing: Uncle Chilio Antelope, Benson C'Bearing, Jr.; Cousin Johnnie Whiteman, Great Grandpa Ernest Atene, Grandpa Lee Y. Cly, Uncle Dave D. Daniels.

His heart goes out to his friends and family, he would have loved for us to include everyone.

On-line condolences may be made to the family at www.TheDavisFuneralHome.com.

Services under the direction of Davis Funeral Home.