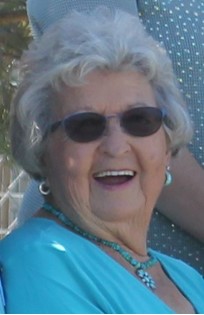 Dulcia Payson
Oct 3, 1932 - Jun 2, 2019
Dulcia Payson, 86 of Riverton passed away on Sunday, June 2, 2019. A memorial service will be held at 10:00 am on Friday, June 28, 2019, at the Bethel Lutheran Church in Lander, WY. Inurnment will be at Mount Hope Cemetery in Lander, WY.

Dulcia Jean Freese was born on October 3, 1932 in Lander, WY to Melvin and Ruth (Callaway) Freese. She grew up in Lander and graduated from Fremont County Vocational High School. When she was a child she spent time with her parents at Little Warm Springs near Dubois; her life growing up was full of adventure which later turned into her passion for traveling and exploring as well as her love of the mountains.

Dulcia was an active member of Bethel Lutheran Church in Lander. She was a member of the Royal Gorge Republican Women's Club, a charter member of the Fremont County Cattlewomen, was active in the FCVHS/LVHS Alumni Association, and she was a 4-H Leader.

Dulcia married Frank Hornecker in 1952 in Lander. He preceded her in death in 1976. She then married Skeeter Payson in 1981 in Atlantic City.

Dulcia was always busy and on a project! In her early married years she cooked for her family and any number of hired men and extra youngsters. Many of these she treated like her own. Dulcia spent years grooming dogs, babysitting grandchildren, and volunteering or working; her hands were always busy. Dulcia enjoyed gardening, but was happiest when she was spending time with her children, grandchildren, and great grandchildren. Dulcia and Skeeter spent some time living in Penrose, Colorado where they were very active in the community. They built a cabin in Atlantic City, Wyoming and enjoyed time there with family and friends.

Dulcia loved her family and was very supportive of all of her grandkids and their educational endeavors. She loved having a crowd around and keeping up with all of the kids' activities.

She is survived by her son, Melvin "Geezer" Bowling and wife Paula of Kemmerer; daughters, Becki Weber and husband, Ron of Shoshoni, Esther Hornecker and husband, Sergio Jimenez of Penrose, CO. She is survived by eight grandchildren; Kristin McRae, Heidi Christensen, Steve Weber, Dustin Bowling, Jeffrey McRae, Tami Marshall, Nick Lawson, and Becca Weber as well as eleven great grandchildren. Her sister-in-law Phyllis Meredith, and brother-in-law Howard Payson, as well as numerous nieces, nephews, and great nieces, and nephews.

She is preceded in death by her parents, her husband, Skeeter Payson in November of 2018; husband, Frank Hornecker; and brother, Lawrence "Larry" Freese.

Memorials may be made to Museum of the American West in care of Davis Funeral Home, 2203 West Main Street, Riverton, WY 82501.

On-line condolences may be made to the family at www.TheDavisFuneralHome.com.

Services under the direction of Davis Funeral Home.