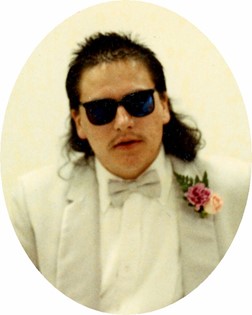 Darrel Smith
Aug 10, 1967 - May 19, 2020
Darrel Smith, Sr. of Johnstown passed away on Tuesday, May 19, 2020, at the Wyoming Medical Center in Casper, WY. He was 52 years old. A Wake will be held on Tuesday evening, May 26, 2020 at his residence. 185 Johnstown Valley Road, Kinnear. Native American Services will be held at his home at 185 Johnstown Valley Road, Kinnear, WY on Wednesday, May 27, 2020, 10:00 a.m. He will be laid to rest at Wind Dancer Cemetery in Fort Washakie, WY beside his father.

Darrel James Smith was born on August 10, 1967 in Seattle, Washington. He was born to the late Alexander Smith, Jr. and Marion Luoma Smith. He was a lifelong resident of the Wind River Reservation and attended school and Wind River School graduating with the class of the class of 1986.He earned his mechanic's certificate from Casper College.

He met his wife Benita Oldman in 1987. They were married May 13, 1989 at St. Stephen's Mission. They were married for 31 years but together for 33 years.

Darrel worked over 30 long years at the Northern Arapaho Tribe Food Distribution as a warehouse employee and then eventually the Director.

Darrel was a foster parent for over 20 years. His family said he enjoyed hunting, fishing, being outdoors and being with his grandchildren. He also enjoyed working on his vehicles and playing oldie goldies. He was a faithful fan for the Kansas City Chiefs. He loved his wife, children, and grandchildren with all his heart.

He is survived by mother, Marion Smith; wife, Benita Louise (Oldman) Smith; sons, Darrel James Smith, Jr. (Ashlee Guzmzan), Michael and Matthew Smith, Arron Marcus Oldman, Curtis Oldman, Sr., Rueben and Talon Oldman, and Alex Smith all of Johnstown, WY; daughters, Lawrencetta Bell (Shane Spoonhunter), Taneica Mae Warren, Kyrynn Hernandez, Cludia Jenkins, and Harley Guina; grandchildren, Shane Troy Spoonhunter, Darrel Smith, III, Tristan Large, Altavia, Thaine, Jamie, Santiago, Josie O, Samiah Smith; uncles, Bob Luoma and Clarence Smith both of Riverton, WY, Preston Smith of Pocatello, ID, and Loren Smith of Lander, WY; aunts, Rolanda Smith of Lander, WY, Karen (Howard) Brown, Angie and Billie Ann Spoonhunter, Barbar and Alfreda Smith, Jerri Monroe, and Kathy Luoma; godmother, Alvena Oldman; brothers, Kenneth , Ian'Bryce", Tysen, Keith, Derek, and Darwin Smith, Miquel Musalem Jr., Bob C'Bearing, Bryan Ouray, Ronnie Thomas, Jessie Moss, Ty and Brodie Nicholls, Dwight and Jesse Harris; sisters, LaDawn Smith, Shelley Mbono, Trina Smith, Trisha Cachlin (Terry), Maria Musalem, Cortney, Fawn, Amy, Kimberly, and Kendra Smith, Candy and Deena Perea, Melissa and Mary Brown, and Chrystal Hanway; brothers and sisters –in laws, Virgil Oldman, Steven M Oldman, Sr., From Harber Springs, MI, Valerie Friday, Luella Monroe, Cookie Teran, Lou and Pam Oldman, Steve C. Oldman, Sr., Cassie Oldman and Leland Fightingbear; adopted children, Tylis, Sammy, and Patton Teran, Ellikia, Elijah, Curtis, Jr, Marcell, Summer, Russell, Jr, Ranelle, Cheryl, Sunshine, Blaine , Lloyd, Bares, Theresa Louis, Curtis Russell Oldman, Maria, E.T., Valene, Terri, Jerri, Nathanel and Josiah Smith, Danelle and April Friday, Rhonda and Lorenza Monroe, Valerie Means, Tina Jenkins, Tianna Ferris, Shawn and Malcom Whiteplume, Summer Bell, Jamie Brown, Kevin and Kenneth Ferris, Merle Oldman, Coleman Stanger, Thomas Surrell, Ben Snyder, Bradley Wadda, Lex Leonhardt, Eric Inman, Albert Gerke, Caron, Carter, Nick, and Brandon Bell, Aspen Dewey, Sierra Burnette, Shaylisha and Coron Engavo, Romona and Kathalene Daney, Jason, Jessie, Evan, Stevie Oldman, Jr., Gregory, Lakota, and Steve "Buzzy" Oldman, Johnny Arnell, Zane Debuse, Nick Pince, Steven, Lorenzo, Terrenso, and Salene Eagle, Branden Gould, Nellie, Jarolyn, Lawrencia, Larry III, and Toshina Benita Oldman, Zane Bell, Mario C'Bearing, and Tyler Smith

And families of Aragon, Tidzump, Standingbear, Jeffrey, Spoonhunter, Laroque, Romero, Dorrence, Shongutsie, Urban, Thomas, Sage, Pebeahsy, Hereford, Lahoe, Johnson, Taveapont, Oldman, and Luoma.

He was preceded in death by his father, Alexander Smith, Jr.; daughters, Jamie Marie and Terri Jean Bell; granddaughter, Angel Rayne Smith; son, Donny Oldman; grandparents, Alexander Sr. and Julia (Aragon) Smith, Jack Sr. and Maxine (Loosemore) Luoma; uncles, John "Big John" Smith and Harold Ouray; aunts, Rhonda Smith, Alysia (Smith) Musalem; godfather, Jimmy Oldman; brothers, Mike White, Evan and Dawson Smith, and Erwin Teran; and father and mother-in-law, Lawrence Sr. and Maria (Brown) Oldman.

If any was forgotten, please accept our apologies from the family.

On-line condolences may be made to the family at www.TheDavisFuneralHome.com.

Services under the direction of Davis Funeral Home.