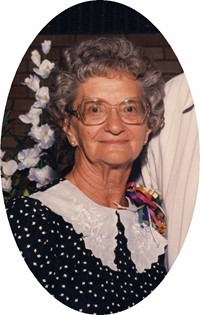 Betty Hurley
Feb 21, 1926 - Jun 18, 2020
Betty Hurley, 94, of Riverton passed away on Thursday, June 18, 2020, in Casper at Central Wyoming Hospice after a long illness. Cremation has taken place and a private family graveside memorial was held on Wednesday, June 24 ,2020, at Mountain View Cemetery.

She was born Betty Louise Dudley in Casper on February 21, 1926. She graduated from Natrona County High School in 1943.

Betty married Archie Hurley and they had four children, Kay Fenenga who lives in Ogallala, Nebraska, Kenneth Hurley from Casper, Bill Hurley from Jackson, and Sue Cole who lives in Dubois. She had 9 grandchildren, 13 great grandchildren, and 7 great-great grandchildren. She had four sisters, Edna Stephenson, Vivian Moore, Barbara Dame, and Dee White. She had three brothers, Casey Dudley, Less Dudley, and Joe Dudley. All of her siblings have already passed.

Betty lived in the Morton area where she and Archie raised Tennessee Walking Horses for many years. They moved to Riverton in 1968, but continued raising horses for many more years.

Betty loved to dance. After Archie passed away she joined a line dance group. She loved line dancing and enjoyed the friendships she found in the other line dancers.

She was also a talented artist in both oil and acrylics. Betty loved music, she played piano, the violin, and mandolin until the arthritis in her fingers made it to difficult. Western music was her favorite to just listen to.

Betty worked for the Farnsworth Insurance Company for over 40 years as a bookkeeper. She retired a few years after Archie passed.

Her last six years were spent with her companion and very good friend, Claude Briddle. Claude also passed away not long ago.

On-line condolences may be made to the family at www.TheDavisFuneralHome.com.

Services under the direction of Davis Funeral Home.