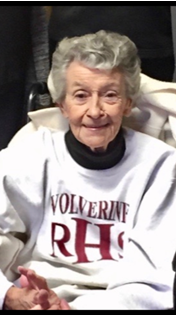 Jean Porter
Jan 11, 1927 - Jul 12, 2020
Wyoming native and longtime Fremont County Resident, and perhaps the most loyal RHS Wolverine fan, Jean Porter passed away, peacefully, on July 12, 2020 at the Help for Health Hospice Home in Riverton, Wyoming with her son, Ron, at her side.

Born January 11, 1927, to Scottish immigrants, Robert and Lena Summers, Jean attended schools in Newcastle, Wyoming and graduated from Newcastle High School in 1945. She then attended the University of Wyoming where she met the love of her life, Bob Porter, who was playing basketball for the Cowboys. After Bob's graduation in 1946, the couple married at Christ Episcopal Church in Newcastle and then moved to Shoshoni, Wyoming where Bob had been hired to teach history and be the head basketball coach.

By 1951, the family had grown with the addition of three children, and Bob was recruited to be the head basketball coach in Riverton. This was to be their forever home. Two more children joined the family and Jean devoted herself to being a mother of five active children supporting them in the endeavors of sports, 4-H, Job's Daughters, school and church activities.

In 1963, she became employed as a teacher's aide at the Riverton Junior High. She worked there for 26 years and was respected for her calm demeanor, sense of humor and ability to draw out the most reluctant learner.

As a long time breast cancer survivor, Jean donated her time to the Reach To Recovery program of the American Cancer Society, counseling newly diagnosed patients.

Jean was a member of St. James Episcopal Church in Riverton for 70 years, serving many roles. She was a founding member of the Help for Health Hospice Board, was a member of the Democratic Women and was a Pi Beta Phi Alumnae.

She was preceded in death by her parents, three older sister, her husband, Bob, her daughters, Robyn Cristler and Becky Porter, and infant great grandson, Kannon White.

She is survived by her daughter, Roxanne (Mac) McLaughlin, her sons, Rick (Sandy) and Ron (Toi) Porter. Also surviving are seven grandchildren, and twenty-one great grandchildren.

Donations in Jean's name may be made to Help for Health Hospice, 1240 College View Drive, Riverton, Wyoming, 82501.

A Memorial Service honoring Jean and her daughter, Robyn Cristler, will be held on August 14, 2020, at 10:00 am at Mountain View Cemetery, Riverton, Wyoming. The family requested that social distancing be observed and that masks be worn out of respect for all. Chairs may be brought for personal use.