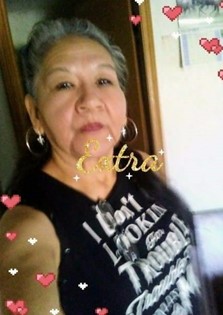 Verna Buffalomeat
Aug 11, 1962 - Aug 3, 2020
Verna Ann Buffalomeat, 57, of Ethete, Wyoming died Monday, August 3, 2020 at the University of Utah Medical Center. Graveside services will be Monday, August 10, 2020, 10:00 a.m. at the Wallowing Bull Cemetery near Ethete. Prayer service and Wake will be Sunday evening, 7:00 p.m., Sunday, August 9, 2020, 29 Goes-in-Lodge Road.

Verna was born August 11, 1962 in Okmulgee, Oklahoma to Roe Buffalomeat and Loretta McClellan. Verna was an enrolled member of the Cheyenne Arapaho Tribe. She attended Riverside Indian School in Anadarko, OK and Southwestern Indian Polytechnic Institute in Albuquerque, NM. She was a substitute Head Start teacher in Ethete and worked at the American Dry Cleaners in Lander.

Verna enjoyed singing at Pow Wows and spending time with her family and friends. She believed in her Traditional Native American Ways. She had many friends who adopted her into their family and appreciated being treated so well.

She is survived by her sons, Isaac Buffalomeat and Alex Buffalomeat; daughter, Tia Buffalomeat; brothers, Nelson (Stacia) Buffalomeat, Shaun Buffalomeat, Charles Birch, Sonny Sky Spottedcorn, Paul Spottedcorn, Raymond Buffalomeat, Eddie Friday and Chuck Campbell; sisters, Grace Willow, Lisa Duran, Roberta Whiteplume, Salina Quiver, and Haroldine Whitewolf; families of Whitebird, McCullen, Flecher, Seiger, Pedro and Buffalomeat Relatives of Oklahoma; Thunder and Pedro of Wyoming. Apologies to everyone if we didn't get to mention you. We know she knew many people. Verna cared and loved you all with all her heart as she did with everyone who came into her life, you were family. Verna will be deeply missed by many.

She was preceded in death by her parents; and brother, Ernie Birch.

On-line condolences for the family may be made at theDavisFuneralHome.com.

Services are under the direction of the Davis Funeral Home.