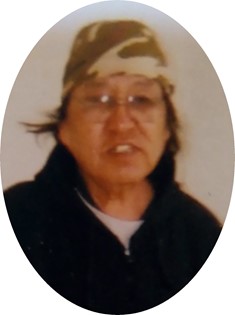 Lyman Yellowhair
Jun 1, 1946 - Aug 12, 2020
Graveside services for Lyman L. Yellowhair, 74, will be held at 10:00 a.m., Saturday, August 15, 2020 at Yellowcalf Cemetery. A Wake will be held the evening of Friday, August 14th at the family home, 764 Rendezvous Road #9. Mr. Yellowhair passed away on August 7, 2020 at his home in Arapahoe, WY.

He was born on June 1, 1946 in Wounded Knee, South Dakota, son of Roy and Naomi (Clinchers) Bad Yellowhair.

After highschool, Lyman enrolled in the United States Army serving his country during the Vietnam War. Following his honorable discharge, he lived in South Dakota, Denver, CO and Wyoming.

He enjoyed beadwork, featherwork, singing, traveling and spending time with his family. Mr. Yellowhair was a ceremonial man.

Survivors include his sons, Emanuel "Bull" Black Bear and Levi Yellowhair Warren; daughters, Naomi Carrier, Sharon Black Bear, Yvonne Moss and Marlena Bad Yellowhair; brothers, Wilmer Bad Yellowhair and Everett Whitewolf; numerous grandchildren and other relatives.

He was preceded in death by his parents, daughter, Aletia Moss; brother, Timothy Bad Yellowhair; sisters, Delia Little, Ruby, Freda Bad Yellowhair, Gerdie Highpine, Ida Bad Yellowhair and Anna Joyce Whitewolf.

On-line condolences may be made to the family at www.TheDavisFuneralHome.com.

Services under the direction of Davis Funeral Home.