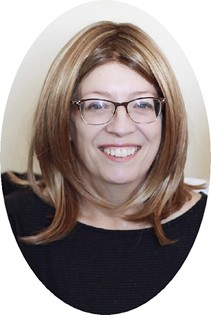 Laurie (Lori) Zuber-O'Neil
Oct 14, 1966 - Aug 19, 2020
Riverton Native, Laurie (Lori) Zuber O'Neil, passed away August 19th, 2020 at UNC Health, Greeley, CO.

Laurie lost her battle with cancer after fighting courageously and gracefully over the course of a year. She was 53 years old. A celebration of Laurie's life will be held at 1pm on Saturday, September 19th at Mountain View Cemetery in Riverton, Wy. A small reception will follow at 320 Henry Road, Riverton, Wy. In lieu of flowers or gifts, Laurie would like all to vote Trump, 2020.

Laurie was born on October 14th, 1966 in Riverton, Wy to Joseph and Delores Zuber. She attended school in Riverton, graduating from Riverton High School in 1985. Shortly after high school, Laurie started her career in medical transcription, where she worked her way to top positions in multiple companies. She had a strong a work ethic and made many friends throughout her career. Her work ethic was fully demonstrated by the fact that she worked up until the day she was admitted to the hospital this August.

In 1987, Laurie moved to Las Vegas, NV where she continued to build her career. Laurie's two children, Zachary and Sarah were born while she was living in Las Vegas. In 2000, they moved to Fallon, NV, where they remained until 2018, at which time Laurie moved home to Riverton, to help care for her mother. After her diagnosis Laurie relocated to Greeley, CO to be closer to her treatments, where Zach and Sarah joined her.

Laurie's entire life revolved around her children. She was a very involved and loving mother and was very proud of both of her children.

Laurie loved her family and always supported in any way she could, even if that meant a facebook meme to poke a little fun.

Laurie was an animal lover from an early age and had many pets of all varieties. She loved horses, and loved to ride. She grew up raising horses and cows, and even had a Longhorn steer that she broke to ride. Of all Laurie's pets, none compared to her dog Leo, that she often joked was her favorite child.

Laurie also loved music and was a very talented drummer. One of her favorite memories was playing with the McDonald's All-American Marching Band.

She will be missed tremendously.

Laurie is survived her son, Zachary O'Neil (26) and daughter, Sarah O'Neil (22); her mother, Delores; siblings Marla Ross, Joseph Zuber Jr. (Mary), Neil Zuber (Cindy), and Jan Taylor (Jim). Many nieces and nephews as well as great nieces and nephews.

Laurie was preceded in death by her father Joseph Zuber.