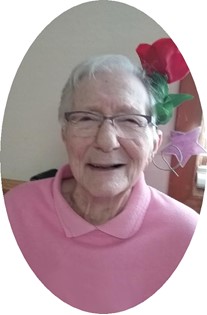 Opal Carlson
Jul 6, 1928 - Oct 20, 2020
Opal Carlson, 92, of Riverton passed away at her home on Tuesday, October 20, 2020. A funeral service will be held at 10:00 am on Wednesday, October 28, 2020, at Trinity Lutheran Church. Interment will follow at Mountain View Cemetery.

Opal May Magdanz was born on July 6, 1928 in Pierce, NE to Gus and Lydia (Burmel) Magdanz. She grew up and attended schools in Pierce, NE.

Opal was baptized on July 29, 1928 at the St. John's Lutheran Church and was confirmed on March 29, 1942 at the Zion Lutheran Church in Pierce, NE. She was a member of the Trinity Lutheran Church in Riverton for over 53 years.

On October 25, 1963 she married William "Bill" Carlson in Sisseton, S.D. They were married for over 45 years when Bill passed away in 2009. They moved to Riverton, WY in September of 1967 and made it their forever home.

Opal worked as a hotel Business Manager for over 30 years. She and Bill owned operated motels in Wyoming, Colorado, Missouri, Texas, and Nebraska for 42 years.

She was preceded in death by her parents, Gus and Lydia Magdanz; husband, Bill Carlson; one brother, Marlin Magdanz and his wife, Mary; one step niece; and one sister-in-law.

Memorials may be made to Trinity Lutheran Church or Trinity Lutheran School in care of Davis Funeral Home, 2203 West Main Street, Riverton, WY 82501.

On-line condolences may be made to the family at www.TheDavisFuneralHome.com.

Services under the direction of Davis Funeral Home.