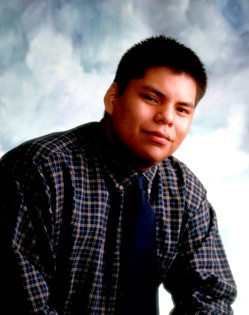 Francis Amos, Jr.
Sep 25, 1982 - Nov 9, 2020
A Funeral service for Francis Ralph Amos, Jr., will be held at 10:00 a.m., Tuesday, November 17, 2020 at Foundations for Nations Church (620 East Monroe Ave in Riverton) with Tim Dower officiating. Interment will follow at Mountain View Cemetery. Memorial contributions may be made online to his Go Fund Me account.

Mr. Amos passed away at Sagewest Hospital in Riverton, WY on November 9, 2020 at the age of 38.

Francis was born in Riverton, WY on September 25, 1982, son of Francis Sr, and Ruth Amos. He graduated from Riverton High School in 2001. He worked at O'Reilly Auto Parts and Expressway Lube.

Francis enjoyed spending time with family, loved playing sports including football and basketball and working out. He also loved listening to Christian music as well as working on and tinkering with his vehicles. He loved to spread positivity to his family and friends. Francis was an avid fan of the Dallas Cowboys, Los Angeles Laker and Boston Red Sox.

Survivors include his son, Jordan and daughter, Roselynn; parents, Francis Sr. and Ruth Amos; siblings, nieces and nephews, Christopher & Amber Amos & kids; Delphine Augustine & kids; Christine Amos & kids; Holly & Chris Bueno & kids; John Amos & kids; Judy Amos; Judith and Eriq Smith & kids; Christian and Danielle Amos & kids; Hannah & Brett Averett; Matthias & Hannah Amos & kids; Caleb Amos.

He was preceded in death by his grandparents, John & Christine Augustine and Yvonne Amos; brother, Titus Amos and cousins, June Augustine and Charlie Augustine; uncle Lambert Augustine and aunt Charlene Yellowfox.

On-line condolences may be made to the family at www.TheDavisFuneralHome.com. Services are under the direction of Davis Funeral Home and Crematory.