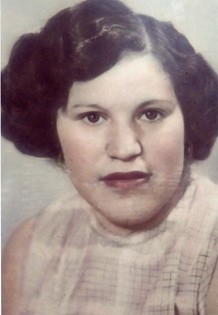 Florence Bell
Jan 7, 1941 - Nov 9, 2020
Graveside services for Florence Mary Bell, 79, will be held at 10:00 a.m., Saturday, November 14, 2020 at the Arapaho Catholic Cemetery. A wake will begin at 7:00 p.m., Friday, November 13th at 614 Eagle Dr., Apt. #3. Mrs. Bell passed away on Monday, November 9, 2020 at Sagewest Hospital in Riverton, WY.

Florence was born on January 7, 1941, in Fort Washakie, Wyoming, daughter of Albert and Clina (Lonebear) Willow. She spent her entire living on the Wind River Reservation attending Milcreek School and CWC.

She enjoyed cruising around, spending as much time as possible with all her grandkids. She also loved listening to her music and baking, as well as teaching her grandkids how to cut meat and live the traditional Arapaho ways, always speaking in her native Arapaho language. She worked for the Senior Citizens Center and was an Arapaho Language teacher.

Survivors include her son, Issac Bell; daughters, Agnes Bell, Ginger Bell and Karina Black; granddaughters, April & Patrick Dewey, Phoebe Soundingsides, Clair Soundingsides, Shanea Bell, Janelle Bell, Alissa Yellowrobe, Kylie Bell, Kaylena Bell, Alissiana Yellowrobe; grandsons, Charlie & Jade Soundingsides; Kai-Lo Bell, Guy Soundingsides, Ben Soundingsides, Jr., John Soundingsides, Brian Soundingsides, Lane Soundingsides; 41 great grandchildren; brothers, Floyd Willow and Richard Willow; sisters, Flora Willow and Cora Willow; the familes of Friday, Lonebear, Brown and Willow.

She was preceded in death by her parents, Albert and Clina Lonebear; husband, Anthony Bell; sons, Ben and Edward Soundingsides and Reno Willow; brothers, Leo and Edward Willow; grandson, Edward Soundingsides; granddaughter, Rea Rose; uncle, Francis Brown;nephew, Ronald Willow.

On-line condolences may be made to the family at www.TheDavisFuneralHome.com. Services are under the direction of Davis Funeral Home.