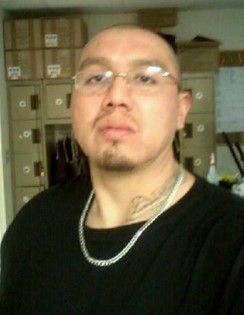 Joshua C. Addison
Feb 11, 1982 - Nov 12, 2020
Joshua C. Addison, 38, Indian name "Strong Bear" died Thursday, November 12, 2020 at the Rose Medical Center in Denver, Colorado. Graveside services will be, 10:00 a.m., Wednesday, November 18, 2020 at Arapaho Catholic Cemetery. A family wake will be held 7:00 p.m., Tuesday, November 17, Gate 39 Little Shield Road. The family asks you to wear masks and take Covid-19 safety precautions out of respect for their family.

Joshua Caleb Addison was born February 11, 1982 in Riverton, WY to Howard Asa Addison, Sr. and Audrelia Quiver Addison. He was a member of the Catholic Faith and attended Native American Sweats.

Josh loved being with his nieces, nephews and grandpa. He also enjoyed going to the casino, watching movies, working and hanging out with family. He worked at the Home Depot, The Marriott, The Wind River Casino as a house keeper, Pertech, and as a construction flagger.

He lived in various places. The last five years he stayed at his home at St. Stephens on Littleshield Road. He attended St. Stephen's Grade School, Wyoming Indian Schools, and obtained his GED in 2004 at CWC.

Josh is survived by his girlfriend, Anita Lincoln; adopted sons, TreyShawn Sleeper and Jalen C'Hair; adopted daughters, Paizlee Sleeper, Thomasine Morado, Sioux'Ana Morado, Joss Addison, Smokie-Raye Isis, Lainey Addison, Asa Addison, Anyah Catherine, and Samara "Baby girl" Roman; uncles, Herman Quiver, Anthony Addison, Sr., Raymond Addison, Sr., Chester Addison, Sr., and Brandt Springman; aunts, Polly Redfield, Mary Arthur, Cathy Shakespeare, Elizabeth Quiver and Myrtle Underwood, Ramona Oldman, Luella Oldman, Terry Teran, Benita Smith, and Valarie Friday; sisters, Brittney Sleeper, Dawn Addison, and Desiree Addison; families of Addison, Quiver, Oldman, Jenkins, Tidzump, and Brown.

He was preceded in death by his father, Howard Asa Addison, Sr.; brother, Howard Asa Addison, Jr.; grandparents, Albert George Quiver and Delane Tidzump Gould; paternal Grandparents, Raymond Addison, Sr., and Rosaline Brown-Addison; aunts, Ava Addison, Roxanne Quiver; uncles, Frances Addison, Sr., Thomas Addison, Sr., Floyd Addison, Sr., and Sherman Quiver; cousins, Tessa Bell, Richard Redfield, Colin Addison, Keith Addison, Jordan Addison, and Jeffrey Day.

On-line condolences for the family may be made at theDavisFuneralHome.com. Services are under the direction of the Davis Funeral Home.