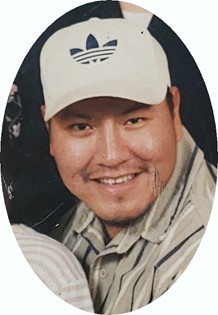 Gary Big Lake
Jul 10, 1974 - Nov 13, 2020
Graveside services for Gary Emmette BigLake, 46, will be held at 10:00 a.m., Friday, November 20, 2020 at the Arapaho Catholic Cemetery. A Wake will be held at 7:00 p.m., Thursday, November 19, 2020 at the family residence, 882 Rendezvous Road.

Mr. Big Lake passed away on November 13, 2020 at SageWest Hospital in Riverton, Wyoming.

Gary was born on July 10, 1974, in Riverton, Wyoming, son of Morris Sr. and Ruth M. (Goggles) BigLake. He was raised in the traditional ways by his mother and grandparents, Joseph and Emma Goggles. He became a traditional dancer for many years. He attended St. Stephens School, graduating in 1992. Gary was on the basketball team from grade school through high school. He was a part of the state championship team of 1991-1992. He played in many tournaments out of school as well. His favorite NBA team being the L.A. Lakers of the 90's.

He enjoyed the company of many family, friends and relatives, too many to mention. He welcomed many people from many places into his circle.

He became a member of the Eagle Drum Group, danced at many Pow-Wows and sang with the River Bottom Juniors Drum Group.

Gary worked at a number of jobs including the overnight security/custodian for St. Stephens School, farmhand, as a cowboy breaking horses, dishwasher at the Red Willow, Security for the Wind River Casino, then lastly, at the Ethete Store as a butcher/supervisor.

Survivors include mother, Ruth M. BigLake; adopted mom, Mary Fighting Bear and husband; sons, Kane BigLake, Joseph BigLake, Daniel C'Hair, Bryson Goggles; adopted sons, Antonio Goggles, Kai Ironeyes Blackbear, Sterling Black, Jr., Anthony Black, Jeremy Headley, Jeffrey Headley, Dusty Headley, John Jenkins, White E. Goggles; daughters, Naoma BigLake, children Emmalynn BigLake, Troy Fasthorse, Jr., Azariah Fasthorse, Tavon Fasthorse; Jolette BigLake, child Elleigh Calling Thunder, adopted daughters Mercedes Nanemkin, Brianna Goggles, Trinity Goggles, Jessica Goggles, Mireya Goggles, Yesenia Goggles, Tearany Goggles, Cherish Black, Lawayne Black Elk, Tara Jo Black Elk, Lillian Black Elk, Calandra Red Cloud (John) brothers; Morris Big Lake, Jr., adopted brothers, Brian Goggles, Alan Warren, Michael Warren, John Warren, Jr., Lionel Bell Sr., children Loveda, Lionel Jr., Summer, Shawnte, Nataya, Shiloh, Be'enoo; Lawrence Bell, Bernard "Footsie" Red Cloud, Michael Red Cloud, Isaac Bell, Jerome Goggles, John Goggles, Sandy Friday, Nolan Friday, Bill Goggles, Gary Goggles, W. Patrick Goggles, Dean Goggles, White Otter Goggles, Jaun Valdez, Robbie Valdez, sisters, Edie BigLake, Gloria Old Elk, Janet BigLake, Maria BigLake, Naomi Yellowbear; adopted sisters, April Goggles, Christy Goggles, Angela Warren, Emma Goggles, Cathy Jo Goggles, Arlene Oldman, Lynsey Hereford, Lauren White, Rose Bell, Mary Killsontop, Dorene Whiting, Mary Shakespeare, Sherl Shakespeare, Debbie Shakespeare, Aleta Whiteman, Theresa Friday, Angela Friday, Terry Friday, Ethel Goggles, Annie Sage, Rachel Grant, Rose Mary Loneman, Donna Trosper; uncles, Rupert "Ducky" Goggles, Sr. (God Father), John Goggles, Owen Goggles, Harlan BigLake, Archie BigLake, Robert Frazier, aunts, Catherine Red Cloud (God Mother), Wilma Goggles, Clarice Denny, Loretta Three Irons, Jeanine BigLake, Myra Lefthand; numerous nieces, nephews and grandchildren; familes of BigLake, Red Cloud, Goggles, Bell, Headley, Friday, Shakespeare, Warren, Underwood. Apologies to the members of the family not listed, we have many large families.

He was preceded in death by his father, Morris BigLake; maternal grandparents, Joseph and Emma Goggles; paternal grandparents, Jim and Edith BigLake; sisters, Toinette BigLake, Sharon BigLake, Loretta BigLake; nephew, Rueben BigLake; niece Tessa Bell various members of the Goggles, BigLake, Friday, Bell, Wolfrang families.

On-line condolences may be made to the family at www.TheDavisFuneralHome.com. Services are under the direction of Davis Funeral Home.