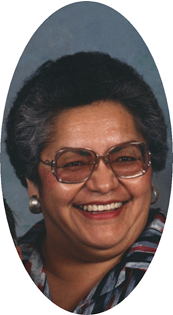 Margaret "Marg" St. Clair
Jul 5, 1938 - Nov 25, 2020
Margaret "Marg" St. Clair, 82 of Arapahoe passed away on Wednesday, November 25, 2020 in Casper, WY. A rosary will be recited and a wake to follow on Sunday, November 29, 2020 at the St. Clair residence, 949 17 Mile, starting at 3:00pm. A graveside service will be held at 2:00 pm on Monday, November 30, 2020, at Spoonhunter Family Cemetery, 929 17 Mile.

Margaret Mary Spoonhunter was born on July 5, 1938 in Riverton, WY to James Francis and Marguerite (Warren) Spoonhunter. She grew up in the Arapahoe area and attended grade schools there. She graduated from Haskell Institute School in Lawrence, KS with the class of 1959.

Marg was baptized into the Catholic faith and was a member of St. Stephen's Catholic Church. She served on the St. Stephen's Parish Council and also on the Wyoming Council of Catholic Women.

On December 11, 1964 she married Reuben Earl St. Clair in Lander, WY. They were married for over 51 years before Reuben passed in 2016. They raised their son, White, on 17 Mile where they lived their entire lives.

Marg worked for the Bureau of Indian Affairs and the Arapaho Tribe for over 37 years in different areas. She was working for the Northern Arapaho Tribal Historic Preservation Office at the time of her passing. She also served on the Northern Arapaho Business Council and worked with Northern Arapaho Enrollment.

Marg also served on the Northern Arapaho Pow-wow Committee, St. Stephen's School Board and the Lander Medical Hospital Board.

When Marg had free time she enjoyed reading, going to the casino, and attending her grandchildren's sports and activities. In her younger years she traveled to pow-wows, concerts, and took many trips with her family.

She is survived by her son White St. Clair, Sr. and wife, Mollie Trumbull; grandchildren, White St. Clair, Jr., Reuben James St. Clair, Cheyla A. St. Clair, Joel SH St. Clair, and Zayden R. SunRhodes; brothers, George Spoonhunter, Marty Spoonhunter, Dr. Jeff Anderson, Ron Spoonhunter, and Ivan Posey; sisters, Delores Cuch and Agnes Logan; aunt, Geraldine Brown; friends, Virginia Ferris, Antoinette Harris, and Kay Ferris; and the families of Spoonhunter, Warren, Sage, Redman, and Underwood. She was preceded in death by her parents, James and Marguerite Spoonunter; husband, Reuben E. St. Clair; granddaughter, Kai L. St. Clair; brothers, Robert Spoonhunter and Theodore Adam Spoonhunter; brother-in-law Raymond Logan Jr. and sisters, Geraldine A. Shakespeare, Joan A. Spoonhunter, Marion Guffey, and Charleen A. Hoover.

On-line condolences may be made to the family at www.TheDavisFuneralHome.com.

Services under the direction of Davis Funeral Home.