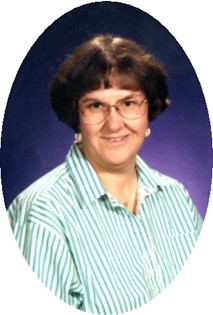 Christine "Chris" Richard
Sep 7, 1947 - Nov 19, 2020
A Memorial Mass will be recited for Riverton resident, Christine "Chris" M. Richard, 73, 1:30 p.m., Thursday, December 10, 2020 at St. Margaret's Catholic CHURCH. Inurnment will follow at Mountain View Cemetery. Mrs. Richard passed away on Thursday, November 19, 2020 at the Billings Clinic in Billings, MT.

Chris was born to Laura and William Richard on September 7, 1947 in Adams, MA. The family moved to Gloversville, NY in 1956, where Chris graduated from school in 1965. In 1969, she graduated from North Adams State College, then moved to Sandwich, MA, where she taught in elementary education for 13 years and was involved in fundraising activities for Spina Bifida. Chris moved to Riverton in 1983 and started The Little Red School House Pres-school/Daycare which she ran for 20 years. Chris loved children and was most fulfilled investing in their educations. She also loved investing in others by sending packages and cards often saying, "It's always nice to get mail." Her loved ones and friends can account for many times they opened their mailboxes to find a card decorated with stickers to brighten their day. Chris enjoyed playing board games and cards. She had a wonderful sense of humor saying, "Sometime we have to find humor in our circumstances." She loved to go on adventures, especially with her best friend and caregiver, LaDonna, even if for just a quick jaunt about tow. Chris enjoyed visits with loved ones and her door was always open to those needing a chat or help with a problem. She had a tender and caring heart for anyone who would allow her, and she gave of herself and resources continually.

Chris was preceded in death by her parents, Bill and Laura and brother, Billy.

Survivors include her sister, Jeannette (John) Anderson, brother, Paul (Teena) Richard, sister, Marilyn (Jon) White, many nieces and nephews, grand nieces, grand nephews, LaDonna Pickinpaugh, and all her friends who love her dearly.

Chris loved Jesus and this Christmas season she is in the arms of her Savior, partaking in a celebration like no other. Her loved ones miss her, but we also rejoice with her in the knowledge she has completed her race.

In lieu of flowers, please send donations to Jason's Friends Foundation, an organization that helps families who have a child with cancer. https://www.jasonsfriends.org/donate

On-line condolences for the family may be made at theDavisFuneralHome.com. Arrangements are under the direction of the Davis Funeral Home.