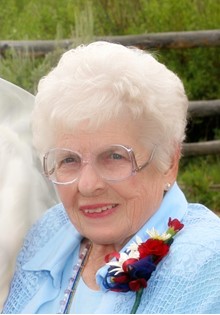 Beth Elaine Davis
Sep 22, 1920 - Nov 5, 2008
Funeral services for Beth E. Davis of Riverton will be at 3 p.m. Monday, Nov. 10, at the Davis Funeral Home of Riverton. The Rev. Cleve McSwain of the United Methodist Church will officiate. P.E.O. committal rites will be at the funeral home. A viewing will be Sunday afternoon from 3:00 – 5:00 p.m. at the funeral home.

Interment will follow at Mountain View Cemetery in Riverton.

Mrs. Davis died at her home in Riverton on Wednesday morning, Nov. 5, 2008, at the age of 88.

Beth Elaine Corliss was born on a farm at Hebron, NE, on Sept. 22, 1920, the oldest of six children of Reuben Joseph Corliss and Helen Maude (Miller) Corliss.

She was graduated from Hebron High School in 1939 and attended Hebron Junior College for two years. She worked as a clerk at the Hawkins Hardware Store in Hebron for a year and then taught sixth, seventh, and eighth grades at Lisco, Neb., where she met Percy T. Davis, a soldier on furlough, whom she later married at the Methodist Church in Enterprise, AL, on Aug. 7, 1943.

She spent three months with Mr. Davis at Durham, N.C., before he was sent with the U.S. Army's 35th Division to England, France, and Germany during World War II. Mrs. Davis returned to Nebraska where their son, Ted, was born.

Mr. Davis returned to Nebraska in early August of 1945 just before the end of WWII. After a few months back in Lisco, the couple decided to take advantage of the GI Bill, which made it possible for Mr. Davis to attend mortuary science school in St. Louis, MO. Daughter Becky was born just before their trip home, after which they came to Riverton to join Mr. Davis' uncle, Ernest Davis, in operation of the Davis Funeral Home.

For the first 12 years, the family lived at 514 East Park, where three additional children were born. Their new home was built on West Main in 1958 and the adjacent funeral home was dedicated in 1963, both overlooking the Wind River Range.

Both Mr. and Mrs. Davis were active in the community during the city's growth years of the 50s and 60s. They were 4-H leaders for the Rustlers and Rustlettes, with members annually winning purple and blue ribbons in a variety of Fremont County Fair classes. They also sponsored youngsters to the 4-H Camp above Lander.

Mrs. Davis was the Fremont County "Make It with Wool" director for several years. As a member of the VFW Auxiliary, she helped judge the Voice of Democracy contest. She was also a member of the American Legion Auxiliary, Daughters of the American Revolution, Republican Women, the United Methodist Women, a 50-plus year member of Chapter H P.E.O., and, for many years, attended the Potpourri Coffee Club. While her husband served in the Wyoming Senate from 1961 to 1976, Mrs. Davis wrote the "Ladies News" from Cheyenne for the Ranger and other area newspapers.

Her family said Mrs. Davis enjoyed reading, listening to music, gardening, history, genealogy, pictures and scrapbooking, visiting her family, watching the birds that came to her feeder, the deer which visited her yard and the beauty of sunsets from her window.

She had traveled to Europe, Hawaii, and Canada, and, as a couple in the 80s, they visited nearly every state in the United States in their motor home.

Survivors include her children, Ted Davis and his wife, Janet, of Peoria, AZ, Becky Harrison of Lakewood, CO, Mary Ann Hutchison and her husband Pat of Riverton, Corky Davis and Shelly of Thane, WY, and Bob Davis and his wife Wendy of Riverton; 12 grandchildren, Laurie Martin and husband Greg, Janene Harding and husband Shane, Shelley Nahs and husband Kiel, Cindi Ray and husband Kevin, Terry Black, Dan Hutchison and wife Christi, Phillip Hutchison and wife Christina, Nicholas Davis, Tanner Davis, Trevor Davis, York Conard and husband Adam, and Adam Davis; and 16 great grandchildren; step-grandchildren, Travis, Trevor, Savanna, Eric and Chad; sisters, Jane Lee and her husband Clayton of Coeur d'Alene, ID, Willa Ann Terhune of Savannah, GA, and Dorothy Trickey of Canyon, CA.

She was preceded in death by her husband, Percy T. Davis; her parents; a brother, Mirza J. Corliss, a sister, Reuberta Eickman; and son-in-law Fred Harrison.

Memorials may be made to the United Methodist Church of Riverton or Little Wind Hospice in care of the Davis Funeral Home, 2203 West Main, Riverton, WY 82501.

On-line obituaries are available and condolences for the family may be made at: thedavisfuneralhome.com

Services are under the direction of the Davis Funeral Home of Riverton.