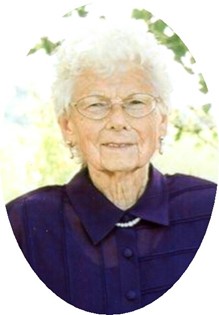 Josephine Schneider
Nov 25, 1928 - Dec 4, 2020
Funeral services for Josephine Marie Schneider, 92, will be held at 12:00 p.m. Saturday, December 12, 2020 at Trinity Lutheran Church with Pastor Mark Mumme officiating. A viewing will be held from 11:00 a.m. until service time at the church. Mrs. Schneider passed away on December 4, 2020 in Parker, Colorado.

Josephine was born on November 25, 1928 in Bridger, Montana to parents Henry Wilhelm and Irma Thormahlen. She was raised and schooled in the Montana area.

She met her husband Robert Schneider in Cody, WY and the couple married on June 28, 1953 and started a family. Bobbie Ann Schneider was born on October 20, 1957. Josephine, along with her husband Robert and brother, Jack Wilhelm ran and operated multiple farms and ranches in the Wyoming area, where they raised and sold livestock, farmed alfalfa and enjoyed living in the country.

Josephine was an avid animal lover and a very talented artist, who spent a lot of her free time China painting, putting together flower arrangements and throwing pottery. She was very involved in her church community and loved showing off her work at various craft shows. Josephine loved watching the wildlife at her farm in Riverton and loved watching the hummingbirds out her kitchen window. She loved to cook meals for her family and there was always enough food to feed anyone who needed a place to eat. Josephine had a heart of gold and if you were lucky enough to know her, you know she was always smiling. She loved telling stories and enjoyed talking to just about anyone and will be greatly missed by all.

Mrs. Schneider was preceded in death by her parents, all of her siblings and her husband Robert.

Survivors include her daughter Bobbie Acosta (Tim & Jan Acosta) two grandchildren Briana (Aaron, Stratton, McKinley and Juniper) and Kenyon Acosta (Brianna Acosta and Khage Acosta)

On-line condolences for the family may be made at theDavisFuneralHome.com. Services are under the direction of the Davis Funeral Home.