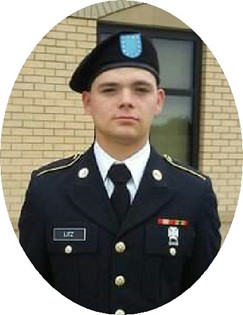 Jonathon "Jon" M. Litz
Feb 23, 1999 - Dec 22, 2020
Jonathon "Jon" M. Litz, 21, of Riverton, Wyoming died Wednesday, December 16, 2020. Funeral services will be 1:00 p.m., Monday, December 28, 2020 at the Church of Jesus Christ of Latter Day Saints, 430 Elizabeth Drive, Riverton, WY 82501. Graveside services will follow at the Lakeview Cemetery in Shoshoni, Wyoming with Military Honors.

Jonathon Michael Litz was born February 23, 1999 in Beloit, Kansas to Jimmie Dale Litz and Jennifer Marie Dodson. He grew up in Osborne, Kansas moving to Shoshoni, Wyoming at the end of 2013. He graduated Shoshoni High School in 2017 and enlisted in the Wyoming Army National Guard in January of 2017. Jon graduated boot camp in the summer of 2017 in Fort Sill, Oklahoma. He served in the 25th Infantry Division as HIAMRS crew. He served with the 2nd Battalion, 300th B Battery Field Artillery and achieved rank of Specialist earning the Army Commendation Medal serving in Iraq and Kuwait in 2019 – March of 2020.

His family said Jon was a jokester and a prankster who was a candy feine. He also loved gaming, was extremely talented with computers, and loved his family and animals. He was an avid reader especially Sci-Fi novels.

He is survived by his parents, Jim and Chris Litz of Shoshoni, WY and Jennifer Dodson of Marion, IN; grandparents, Judy Fricke of Mission, KS, Ted and Nancy Perkins of Osborne, KS; three brothers, James Litz of Riverton, WY, Theodore Litz and Malachi Litz both of Shoshoni, WY; three sisters, Samantha Litz of Topeka, KS, Kayla Hannah and Elizabeth Litz both of Shoshoni, WY; many aunts, uncles, and cousins.

He is preceded in death by his maternal grandfather, Rev. Ron Fricke; paternal grandparents, James Finley and Betty Sue Litz; and uncle, John Runions.

Memorials may be made to Prevent 22 Veterans or the Wounded Warriors in care of the Davis Funeral Home, 2203 W. Main Street, Riverton, WY 82501.

On-line condolences for the family may be made at TheDavisFuneralHome.com. Services are under the direction of the Davis Funeral Home.