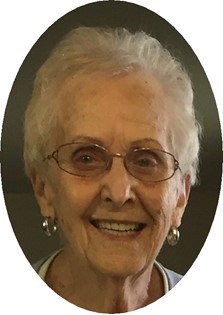 Alice McLean
Nov 16, 1932 - Dec 29, 2020
Alice McLean, 88, passed away on December 29, 2020 in Longmont, Colorado.

Alice was born in Faulkton, South Dakota to Adolph and Reta Herrman on November 16, 1932. She was raised in Sheridan, Wyoming and graduated from Sheridan High School in 1950. Alice and Douglas McLean were married in 1952 and moved to Ft. Collins, Colorado where Douglas attended college. Upon his graduation, they moved to Riverton, Wyoming in 1958, and together they started the McLean Veterinary Clinic and raised their family.

Alice was a devoted wife, mother, grandmother and community member. She was active in the United Methodist Church and P.E.O. Alice lived in Riverton for 57 years until she moved to Colorado in 2015 to be closer to family. Aside from her family, Alice's passions included baking, needlework, flower gardening, reading, bridge, and walking in the great outdoors. She cherished her family and friends. Alice will be remembered for her courage, strength, faith and love.

She was preceded in death by her husband, Douglas McLean, son, Brian McLean, parents and sister, Oline.

Survivors include her children, Debbie (Gene), Susan (Greg), Lori, daughter-in-law, Sheila (Rick), grandchildren, Kevin (Catherine), Mike, Justin (Ellen), Desiree (Ryan), Chelsea, Reese (Katie), Rachelle, step-grandchildren, Hether (Justin), Jill, Danelle (Shawn) and six great- grandchildren.

A private graveside service will be held at a later date. Memorials in Alice's name may be made to the United Methodist Church or PAWS for Life in care of Davis Funeral Home, 2203 West Main, Riverton, WY 82501.

On-line condolences may be made to the family at www.TheDavisFuneralHome.com. Services are under the direction of Davis Funeral Home.