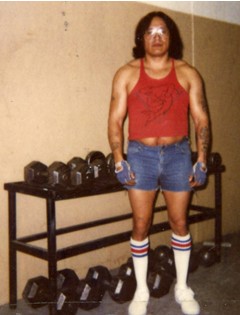 Gerald Shakespeare
Oct 26, 1955 - Feb 5, 2021
Graveside services for Gerald Dyer "Keo" Shakespeare, 65, will be held at 1:00 p.m., Monday, February 15, 2021 at Spoonhunter Cemetery. The wake will be held at 6:00 p.m., Sunday, February 14th at 100 Sagebrush Loop, Beaver Creek Housing.

Mr. Shakespeare passed away on February 5, 2021 in Fort Collins, Wyoming.

He was born on October 26, 1955, in Lander, Wyoming, son of Crawford and Geraldine (Spoonhunter) Shakespeare. Gerald grew up in the Ethete and Arapahoe areas and attended Mill Creek Elementary School (Now WIES) before receiving his GED. Throughout his life, he lived in Casper, Cheyenne, Anchorage, AK, New York and Fort Collins, CO for 10 years.

Mr. Shakespeare enjoyed competing in weight lifting tournaments, horseback riding, reading, and playing his guitar as well as biking and hitchhiking. He was also a member of the Catholic faith.

Survivors include his sisters, Sandra A. Shakespeare and Cynthia J. Shakespeare; families of Shakespeare, Spoonhunter, Armajo and Warren.

He was preceded in death by his paternal grandparents, Harry and Annie (Armajo) Shakespeare; maternal grandparents, James and Marguerite (Warren) Spoonhunter.

On-line condolences for the family may be made at theDavisFuneralHome.com. Services are under the direction of the Davis Funeral Home.