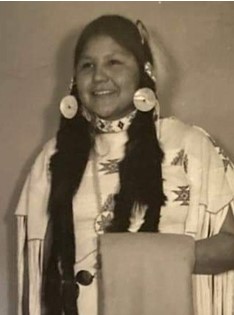 Angela Friday
Jan 3, 1956 - Feb 12, 2021
Angela Friday, 65, a lifelong resident of the Wind River Reservation passed away at the Help for Health Hospice Home on Friday, February 12, 2021. Cremation has taken place and a memorial service will be held at a later date.

Angela Marie Friday was born on January 3, 1956 in Lander, WY to Duane and Bernadine (Goggles) Friday. She attended schools at Mill Creek Elementary, Hamilton Dome School, and graduated from Hot Spring County High School. She attended the University of Wyoming earning her Associates of Arts and was working towards obtaining her Bachelor's Degree in Education.

Angela was baptized into the Roman Catholic faith and attended St. Joseph's Parish Church. She was a Sunday School teacher for many years at St. Joseph's. She worked with Sister Theresa.

She worked at St. Stephen's and Arapaho Schools and retired from Wyoming Indian Elementary after 26 years.

Angela enjoyed attending pow-wows, beading, gardening and yard work. Angela was a cowgirl and loved taking care of her horse "Socks".

She is survived by her granddaughter, Windy Rain Ridgely; grandson, Jerome T. Ridgely; brothers, Sanford (Donna) Friday, Sr., Nolan (Rae) Friday, and Solo Friday; sisters, Aleta (Dennis) Whiteman, Elizabeth Friday, Terry Friday-Garrow, Jolene (Byron) Makeshine, Lowayne Friday, Colleen (Adrienne) Friday, and Christina (Joshua) Friday, Angela had many friends. Close friends - Celeste Colston, Rose Wadda , Arydenne Sage, Freda Hurtado, Arlene Oldman, Pinky White, Sam and Cookie Arrow White, and Donna Bertagnolli.

She was preceded in death by her husband, Royce Ridgely; daughter, Rani Ridgely; parents, Duane Friday and Bernadine (Goggles) Friday; grandparents, Angela and White Otter Goggles, Sr.; and brothers, Wade Friday, Stanford Friday, Alan Friday and Eugene Goggles.

On-line condolences may be made to the family at www.TheDavisFuneralHome.com.

Services under the direction of Davis Funeral Home.