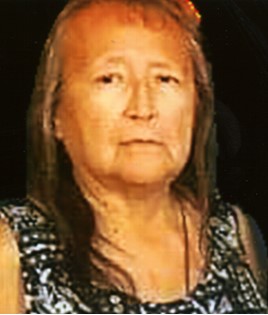 Margaret Spoonhunter
Sep 6, 1958 - Mar 3, 2021
Margaret "Peggy" Spoonhunter, 62, of Arapahoe, passed away on Wednesday, March 3, 2021, at the Intermountain Medical Center in Murray, UT. A rosary will be recited with the wake to follow at 7:00 pm on Tuesday, March 9, 2021, at #5 Oldman Circle. The graveside service will be held at 10:00 am on Wednesday, March 10, 2021, at Arapaho Catholic Cemetery.

Margaret Nell Spoonhunter was born in Lander, WY on September 6, 1958 to Stanley Joseph Spoonhunter, Sr. and Jessie (Shakespeare) Spoonhunter. She was given her Native American name, Woman Singing in the Front. She grew up in Arapahoe area and attended school in Lawton, OK. She graduated high school and went to two years of college.

Peggy was baptized into the Catholic Faith and was a strong believer. She also was a firm believer in the Arapaho Way of Life.

She was a homemaker that loved taking care of her family. Family was the biggest thing in her life, she raised many children. She loved taking walks, small dogs, reading, feeding wild birds, and planting flowers, gardens, and trees. She traveled and attended many Pow-Wows and was a big part of the Northern Arapaho Sundance. Derrick loved spending time with Peggy and she with him.

Survived by her sons, Brian (Devona) C'Hair, Sr., Allan Spoonhutner, Sr., Preston Schamp, Bryon Yellowbear, Marcus Brown, Darwyn Dodge, Julian Spoonhunter, Jacob Lujun, Chester Addison, Jr, Darwin Spoonhunter, Jr. and Brandon Whiteman; daughters, Theresa (Rick) C'Hair, Darlene Spoonhunter, Cheryle (Jared) Whitebull, and Sarah Tom; sisters, Lanette (Albert Jr.) Dodge, Rhonda Headley, Robin Manderson, Karen Manderson, Alvinita Oldman, Tillie Spoonhunter, Elrita Talksdifferant, Lynelle Shakespeare, Vernita Shakespeare, and Vicki Shakespeare; brothers, Alden (Rosalie) Spoonhunter, Sr., William Washington, Theron Spoonhunter, Harvey Spoonhunter, Marlin Spoonhunter and Leonard (Ruth) Moss, Jr.; ceremony elders, George and Eunice Moss, Leonard Moss, Sr., Nelson White and Gerald RedMan, Sr. and extended families of Shakespeare, Moss, Gambler, Friday, Trosper, Black Elk, Athur, Mounts and Foolscrow.

Preceded in death by her father, Stanley Spoonhunter, Sr; son, Jay Dean Spoonhunter; ex-husbands, Gary Lee Whiteman and Sherman Pat C'Hair, Jr; grandparents, Nellie F. Shakespeare, John Shakespeare, Ward Spoonhunter, Margaret Gambler Spoonhunter, Adam Shakespeare, West Shakespeare, and Josephine White; brothers, Darwin Spoonhunter, Sr., Stanley Spoonhunter, Jr., Wendall Spoonhunter, Howard "Baby Howard" Spoonhunter, Mike Friday, Dean Moss, Ward Michael Spoonhunter, David Black, Alfred "Grizz" Shakespeare, Lyle Black, Jr., Alvin Spoonhunter, Curtis Shakespeare, Jerry Moss, Kenny Shakespeare, and Lonny Shakespeare; sisters, Lujuana Antelope, Annette Moss, and Justine Shakespeare; uncles, Odell Shakespeare, Leroy Shakespeare, Alfred Sponhunter, Sr., Howard Spoonhunter, Sr., and Cedric Shakespeare Sr.; aunts, Alice Moss, Sarah Black, Laura Shakespeare, and Lettie June Shakespeare; nieces, Martika Spoonhunter, Elizabeth C. Dodge, Brooklyn Willow, and Kraci Spoonhunter; and nephews, Mahlon Spoonhunter and Therin Spoonhunter.