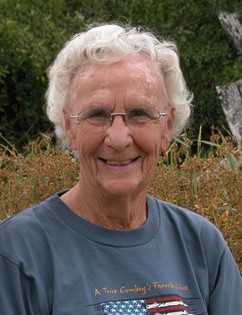 Elisabeth M 'Liz' Christensen
Oct 29, 1924 - Nov 19, 2008
Funeral services for Elisabeth M. "Liz" Christensen of rural Riverton will be conducted Monday, November 24, 2008, at 10 a.m. at the United Methodist Church in Riverton, with the Rev. Mark Thurman officiating. Interment will follow at Mountain View Cemetery. A viewing will be held Sunday, November 23 from 4 to 6 p.m. at Davis Funeral Home. Liz died Wednesday, November 19, 2008, at Wyoming Medical Center after a brief illness. She was 84 years old. Elisabeth Marie Monrad was born October 29, 1924, in Omaha, Neb., to Ivan Monrad and Karen Posborg Monrad. She grew up and graduated from high school in Omaha. She was employed by the telephone company during World War II. On May 12, 1946, she married a handsome serviceman, Paul Christensen, in Omaha. They lived in Brush, Colo., and farmed his father's place from 1946 until 1948, when they drew a homestead in the Riverton area. Paul began farming near Midvale at that time, and Liz joined him in 1949 with their two sons ages 1 and 2. Their daughter arrived in 1954. They are the only remaining homesteaders still living on their original place. Their 62-year marriage has been an inspiration and example to their children and grandchildren. As an active member of the United Methodist Church, she was a Sunday school teacher for many years. Liz was a homemaker and had worked for several years as a scale operator at area beet dumps for Holly Sugar. She was a familiar figure at the Fremont County Fair, where she clerked for many years. She was also active in various clubs and organizations in the 8-Mile area, including 4-H, O.A.O., and pinochle. Liz loved square dancing, and she and Paul had been members of the Riverton Hoedowners for more than 35 years. As her kids and grandkids can attest to, they loved to dance and were often the last ones to leave the dance floor.

Liz loved to do counted cross stitch, and followed her children, grandchildren and great-grandchildren in their sporting events and other activities.

Her outstanding cooking and baking (especially Christmas cookies), quick warm smile and giggle, loving countenance and kisses for everyone will be missed. Among her survivors are her husband Paul Christensen, sons Dennis Christensen and his wife Heather, and Kent Christensen and his wife Cheri, of rural Riverton; daughter, Gay Lynne Hobson and her husband Rich of Republic, Wash.; seven grandchildren, Sean Christensen and his wife Heather, Jeremy Hill and his wife Courtney, Jason Hill and his wife Mandy, Kati Anderson and her husband Boyd, Shannon Johnson and her husband Rodric, Lennard Christensen and his wife Kristi, and Brian Hill; seven great-grandchildren; sister, Mary Lou Vaccaro; numerous nieces, nephews and cousins. Liz was preceded in death by her parents; a brother, Ivan; and son-in-law, Roger Hill. Memorial donations may be made to Help for Health Van or Help for Health Hospice Home, in care of Davis Funeral Home, 2203 W. Main, Riverton, WY 82501. On-line obituaries are available and condolences for the family may be made at: thedavisfuneralhome.com Services are under the direction of the Davis Funeral Home of Riverton.