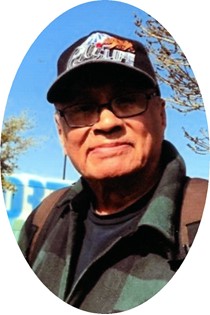 Oliver "Bob" Headley
Jul 26, 1952 - Apr 1, 2021
Oliver "Bob" Headley, 68, of Lancaster, CA passed away at the Antelope Valley Hospital in Lancaster, CA on Thursday, April 1, 2021. He is being brought home to rest on the Wind River Reservation. A wake will be held Tuesday evening, April 13, 2021, 266 17 Mile Road. Traditional graveside services will be 2:00 p.m., Wednesday April 14, 2021, at Yellowcalf Cemetery.

Oliver Jesse Headley was born on July 26, 1952 in Fort Washakie, WY to Arnold B. and Margaret Mary (Willow) Headley. He lived on the Wind River Reservation growing up and attended Mill Creek Elementary School, Fremont County Vocation High School and graduated from Wyoming Indian High School. He then attended Central Wyoming College for a year before going to Southwestern Indian Poly-technical Institute (S.I.P.I.).

Bob was baptized and confirmed into the Episcopal faith. He was an altar boy and worked the pancake suppers to help raise money.

On January 6, 1970 he Darlene Tillman. They divorced in October 1972.

Bob lived in Cook City, MT doing road construction and Casper, WY doing construction. He was a Sho-Rap Firefighter. Most of his career was working for the U.S.G.S. guide for mapping fossils. He moved from the Wind River Reservation to California in 2018 to be with his family.

Bob was a member of 4-H, loved agriculture and had a natural green thumb in gardening. He was a member of the Ethete Boxing Club and took two State Golden Gloves Featherweight Titles in 1968 and 1969. He was a four state boxing champion of the states, Montana, Utah, Colorado, and Wyoming. He also ran track for Fremont Vocational High School. Bob loved horses and antique cars.

He is survived by his daughter, Lelaine Headley-Herrera; brother, Louis Ronald Headley; sister, Rhonda Headley; and five grandchildren and 15 great grandchildren.

He was preceded in death by his parents, Arnold and Margaret Headley; brothers, Gerald Paul Headley and Quintin Headley; grandparents, Aaron Willow, Amy Tyler Willow, Louis Wallowing Bull-Headley, and Jesse Shakespeare; Christina Mendibles, Houston B. Headley, Norman P. Willow, John and Lucy Willow, Kenneth Willow, Eloise Willow, Stacy Stewart, April Lincoln, Stewart, Ginger Headley, Oliver and Evelyn (Antelope) Willow, Ben Friday, Jr., Benji Friday, and Tasha Ware.

On-line condolences may be made to the family at www.TheDavisFuneralHome.com.

Service under the direction of Davis Funeral Home.