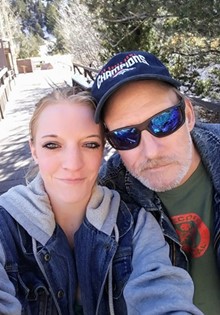 Terry Ambrose
Jul 27, 1963 - Apr 3, 2021
Terry Ambrose, 57, passed away unexpectedly Saturday, April 3, 2021 at SageWest Hospital–Lander. According to his wishes, cremation has taken place. The family will have a private memorial on a later date.

Terry was born July 27, 1963 in Riverton, WY to Roy N. and Freida (Steinmetz) Kappus. He was raised with his three brothers Roy Lee, Raymod and Mike Kappus. Terry grew up to serve in the US Air Force and the Wyoming Army National Guard.

He then married Lora Lee Adcock on September 6, 1986 at the First Baptist Church in Riverton, WY and had two kids. They lived in many different places, from Idaho Falls and Coeur d'Alene, ID, to Casper and Riverton, WY. Terry spent his remaining years in Lander WY.

By trade Terry worked in the oil field when he became a fabricator for ExCal Inc. in Casper, WY. He also enjoyed detailing cars in Jackson Hole, WY. Where he boasted that once he worked on Michael Keaton's car!

Terry loved his family a lot! He was very close to his daughter, son in law, and grandchildren. He loved fishing, camping and Rock & Roll. He greatly enjoyed traveling, especially reveled in the trip he took his family on to Hawaii.

He is survived by his daughter, Hali, her husband Steven Huntley, and his grandchildren Marcus, Aubree, and Abigail Huntley.

He was preceded in death by his wife, Lora Lee; parents, Roy and Freida Kappus; and two of his brothers, Roy Lee and Raymod Kappus . Terry Ambrose Kappus was a great Husband, Father, Grandfather, and Friend! He most surely will be missed in this world!!



On-line condolences for the family may be made at theDavisFuneralHome.com.



Services are under the direction of the Davis Funeral Home.