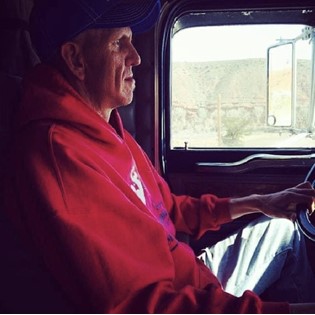 Joseph B. Leseberg
Jul 24, 1978 - Apr 18, 2021
We are deeply saddened to announce the passing of Joseph Burton Leseberg of Dubois, Wyoming on April 18th 2021. He went peacefully surrounded by friends and family.



Joe was born July 24th, 1978 in Lander Wyoming to William (Billy) and Patricia (Patsy) Leseberg of Dubois.



Joe graduated from Dubois High School in 1996. He was an avid basketball player, loved to hunt and of course, drive semi trucks and run equipment for the family business when he could. After graduation, he went to work full time for the family business. Joe also loved roping and going to rodeos with his cousins. He even got good enough to make it to a big roping in Oklahoma City.



In 2005 Joe married Jessalyn Bell and they had two children. Trevor Burton Leseberg and Taelyn Nicole Leseberg in Riverton WY. Joe and Jessalyn later separated and the kids enjoyed spending their time between Riverton and Dubois.



Joe adored his kids and they would often be seen with him in his trucks and equipment while he was working. Nothing made him more happy than his kids helping with the family business.



Joe loved to be surrounded by friends and family, but he especially loved his trackhoe. He excelled at operating heavy equipment and later took over the family business when his father died in 2016.



Survivors include his Mother, Patricia (Patsy) Leseberg. His children, Trevor Burton Leseberg, Taelyn Nicole Leseberg. His Ex-wife Jessalyn (Billy) Meeks. His aunt Alice Hart and Family. His brothers Larry Robert Leseberg, and Kenneth (Marcy) Leseberg. His nieces and nephews, Kayla (Eric) Gillette and children of Antigo Wis, Jesse (Collin) Smith of Antigo Wis, Craig (Melody) Leseberg and children of Star Valley WY. Amanada (Tyson) Reher and children of Cheyenne WY. Kolter (Kaylee) Leseberg of Dubois WY.



He is preceded in death by His father William E. (Billy) Leseberg. His brother Michael Leseberg. His nephew Richard (Spike) Leseberg. His maternal grandparents Harry and Dorothy Paulsen. His paternal grandparents Bill and Verna Leseberg. His aunt Sandra Leseberg. His aunt Carrol O'Neal. His uncle Gerald Hart. Other family members including, Stacy Lynn Satterfield, Peggy Paulen, Dorothy Martha Paulsen, Mary S. Paulsen, Charles and Nova Gilliland.



A memorial service will be held this Saturday, April 24th 2021, at 2pm at Mountain Grace Church, 27 Gilliland Ave, Dubois WY 82513. All are welcome to attend. There will be a carry in reception following the service. Please bring an appetizer or dessert to share.



In lieu of flowers we are asking donations for the children's college fund be sent to Patsy Leseberg, PO BOX 636 Dubois WY 82513.



On-line condolences may be made to the family at www.TheDavisFuneralHome.com.



Services under the direction of Davis Funeral Home.