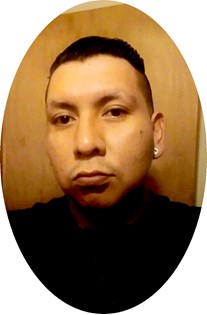 Arnold RealBird
Sep 3, 1992 - Jun 6, 2021
Funeral services for Arnold James Christian RealBird, 28, will be held at 11:00 a.m., Thursday, June 10, 2021 at the Fremont Center at the Funeral services for Arnold James Christian Real Bird, 28, will be held at 11:00 a.m., Thursday, June 10, 2021 at the Fremont Center at the Fremont County Fairgrounds. Interment will follow at the Arapaho Catholic Cemetery. A Wake will be held at his home 23 Red Crow St, 7:00 p.m., Wednesday, June 9th.

Mr. Real Bird passed away on Sunday, June 6, 2021 at his home in Arapahoe, Wyoming.

Arnold James Christian Real Bird (ABird) was born on September 3, 1992 in Lander, Wyoming and passed away on June 6, 2021 surrounded by family at home in St. Stephens, Wyoming. He was born to Nina Karen Littleshield and Arnold Lynn Real Bird. Though he was enrolled with the Northern Arapaho tribe of Wyoming, he was also profoundly proud of his Crow ancestry from his father's side. Through his Arapaho ancestry, he could trace his lineage to Chief Black Coal from his Littleshield bloodline. His Arapaho name was Hooxei ho'oeet, translated to English as Painted Wolf, given by Joe Goggles. On his Crow ancestry, he was a member of the Bad War Deeds and Child of the Bad War Deeds clan. His Crow name was Shiile ii baa aatchilash, translated to English as Has Good Fortune with a Sorrel Horse, a name given to him by Howard Shane—also deceased.

Raised in Wyoming, Chris, as he was affectionately called by his family, attended schools in Fremont County his entire life. He was a proud alumnus of Wyoming Indian High School where he played basketball. He also attended and played the sport at St. Stephen's Indian High School and Arapahoe Elementary/Middle School. A member of the Catholic faith, he also attended St. Margaret's school for some time.

He was always happy to help teach his young nieces and nephews the great fun one can gain by playing the sport. An avid music fan, his taste for good music knew no limits. He never had a bad playlist. He was also proud of his skills as a gamer and often played the latest shooter games and NBA 2K games with his family and friends. Beyond these, his greatest pleasure was derived from his time with family and dear friends. His Littleshield grandparents brought him up in a way that placed great emphasis on the family. He never forgot that nor took it for granted. He loved his people deeply.

He is survived by his partner in life, Brianna Tillman.

He is also survived by grandparents Richard and Sarah (Friday) Littleshield, Margo Real Bird, Laura Pickett, Joe Pickett, and Walter Big Medicine; uncles Richard Littleshield III, Bernard (April) Friday; Robert Friday, Edward (Francine) Real Bird, Rayburn Friday and sons; Aunts Ladonna Littleshield, Michaelene and Misty Friday; adopted mother Natalie Real Bird; brothers Jared Real Bird and Keiran littleshield, Stephin, Sumner, and Quinton Littleshield, Teran "TF" Friday, Leander and George Real Bird; sisters Brandys Littleshield, Angel and Cecile Real Bird; dear niece/God daughter Kaylia Real Bird, Salyce Sage; nephews Lane, TJ, and Daniel.

He was proceeded in death by his parents Nina Karen Littleshield and Arnold Lynn Real Bird; auntie/mom Theresa Littleshield, Susan Real Bird; grandparents George and Ramona (Falls Down) Real Bird, great grandparents Mark and Florence (Medicine Tail) Real Bird, Raymond and Elsie (Other Medicine) Falls Down, Sr., Daniel and Lydia (Shakespeare) Friday, Richard and Theresa (Blake) Littleshield. Sundance Grandfather Donnie Chavez; uncles George "Randy" Real Bird, Blaine Real Bird, brothers Cody Custer Real Bird, Jay Dee Real Bird.

The family would also like to acknowledge the extended families of Littleshield, Friday, Shakespeare, Blake, Real Bird, Falls Down, the late Martha Real Bird family, Moccasin, Other Medicine, Medicine Tail, Birdinground, and Pickett.

On-line condolences may be made to the family at www.TheDavisFuneralHome.com. Services under the direction of Davis Funeral Home.